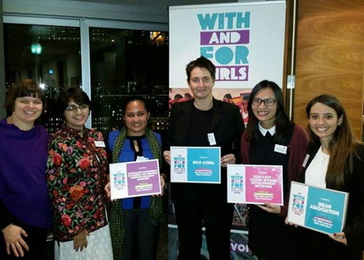 NGO Atina received the "With and For Girls Award" as one of twenty humanitarian organizations worldwide. This award, given to NGO Atina at a ceremony in London, is part of the global initiative with the mission of identifying and supporting strong local organizations working with girls and for girls.
NGO Atina was awarded for its years of work and contributions to the improvement of the status of girls and women, victims of trafficking and other forms of gender based violence, by providing safe accommodation, health and psychological care, legal counselling, informal education and economic empowerment, twenty four hours every day. The Atina organization is specific, in that it is the founder of the Bagel Shop social enterprise which helps finance existing reintegration programmes conducted by this organization. In addition to this, through the training this company conducts, it also provides opportunities for women and girls to gain working habits and skills that can help them with future employment.
To improve the response to the needs of women and girls, NGO Atina conducts programmes that develop capacities of non-governmental organizations and professionals in the community to more efficiently recognize and protect women and girls who are victims of trafficking. The comprehensive reintegration programme of the Atina non-government organization for girls who are victims of trafficking has become the standard model for providing services for all state institutions in Serbia dealing with this particularly vulnerable group.
Source: atina.org.rs