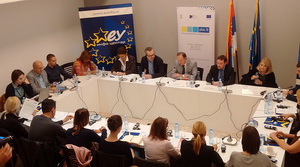 Citizens need a passport to cross borders, while viruses, bacteria and communicable diseases do not, the EU Info Centre said, at a briefing for journalists on negotiation chapter 28 – consumer and health protection, as part of the programme Policy and Legal Advice Centre (PLAC II).
Nicolas Bizel from the European Union (EU) Delegation to Serbia assessed that media plays an important role in monitoring the process of Serbia's accession to the EU. Chapter 28 is divided into two parts, and is in regards to the protection of consumers and the protection of public health, with Bizel noting that the goal is to increase the quality of life of consumers.
"The harmonization of rules on consumer protection should enable the flow of goods with the same safety and quality standards, while the field of public health", says Bizel, "is regulated by rules in the area of preventing communicable diseases, substances of human origin, as well as the prevention of the abuse of drugs, tobacco, and alcohol".
Dragana Radojčić from the Ministry for European Integration assessed that the successful screening was followed by a call for Serbia to prepare a negotiation position, which is under way, therefore it would be ill advised to comment on when chapter 28 might be opened. She says that this is why support in the form of the PLAC II programme (Policy and Legal Advice Centre) is welcome at this moment.
The European Union invested EUR 150 million into the healthcare system, representing the highest amount of assistance received by any country, as stated at the media briefing "On the Road towards the EU – Chapter 28".
Source: euinfo.rs