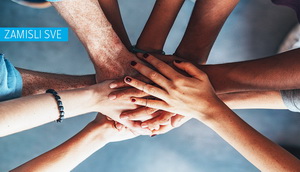 Telenor Foundation has published an open call on 25 February for support to socially responsible projects, under the title "Imagine Everything". The call is open to humanitarian and non-government organizations, institutions and foundations registered in Serbia.
The call is open until 10 April, with applications to be sent to fondacija@telenor.rs.
Minimum support to the winning projects will be EUR 1,000, and maximum EUR 15,000.
By way of this call the Telenor Foundation wishes to support organizations with an idea and clear plan for overcoming a social challenge, or changes that can improve a certain segment of society. Projects should emphasize areas of activities of the Telenor Foundation, i.e. education, social inclusion of socially vulnerable groups, culture and arts, and environmental protection.
This is the thirteenth year of operation for Telenor Foundation, with over 200 projects implemented in cooperation with 300 partners. Every project was given, in addition to financial support, the opportunity to use the potential of the main business activity of Telenor, and the engagement of its employees.
More information on the method of application can be found at www.telenor.rs.
Source: www.telenor.rs, taken from odgovornoposlovanje.rs