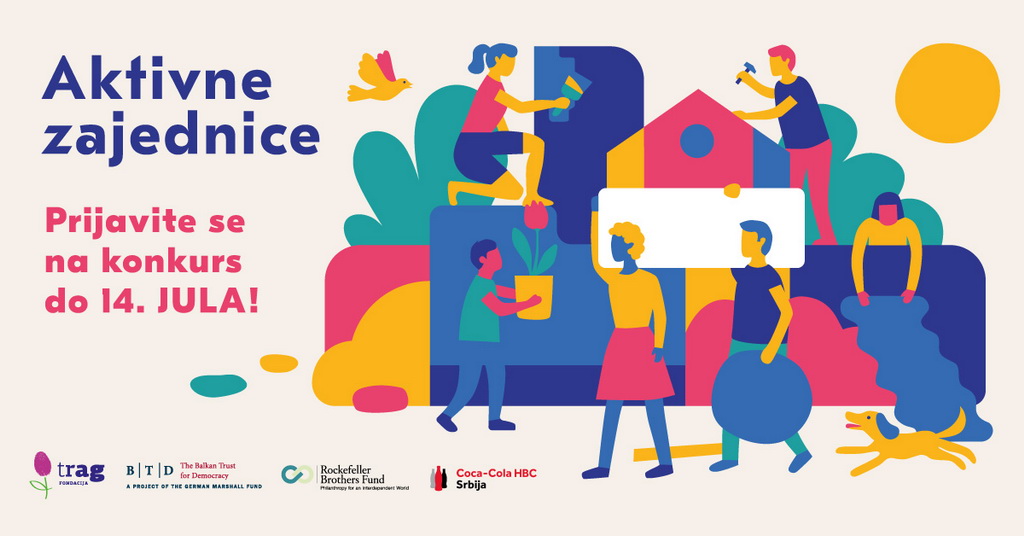 Trag Foundation has been implementing the "Active Communities" programme for 20 years, providing support for 630 initiatives by informal groups and associations in over 200 communities across Serbia. Since the very beginning the programme has been following the needs of citizen associations, supporting them financially and otherwise to implement their ideas that contribute to the development and betterment of their communities. The projects supported by Trag Foundation are not thematically limited and are the fruit of the ideas, energy, work and dedication of the people participating in them.
Who is eligible?
Trag Foundation supports citizen associations and informal groups that:
Mobilize and actively involve citizens in their activities,
Represent the general interests of their community,
Have an annual revenue not exceeding RSD 1,200,000.00 (for associations), and
Are located within the territory of Serbia.
Informal groups are groups of at least three people gathered to solve a problem in a community and not formally registered.
What kinds of ideas will be supported?
Trag Foundation believes that the associated citizens know the needs of their communities best, thus the "Active Communities" programme is creating a space for diverse projects that contribute to community development. For Trag Foundation, a community consists of citizens gathered around common values, needs, interests, and problems, undertaking joint actions while developing a community spirit. Communities can be local, ethnic minority communities, members of various marginalized groups, LGBT+, online communities, etc.
How to apply for the "Active Communities" programme?
Click here to download the documents:
Present your idea by filling in the Concept idea form, and send it by e-mail to: prijave@tragfondacija.org.
Deadline for applications: the "Active Communities" programme call is open until 14 July 2019.
Continuous support is provided by the Balkan Fund for Democracy (BTD) and the Rockefeller Brothers Fund. The programme is being implemented with the support of the Coca-Cola HBC Serbia and Montenegro Company.
More information on the rules of the competition can be found at www.tragfondacija.org