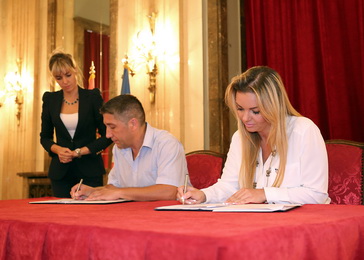 Children with development disabilities, 250 of them, will receive the services of personal assistants, as envisaged by the contract between the City of Belgrade and the humanitarian organization "Dečiji osmeh", signed on 28 July 2015.
The service of personal assistant is intended for children with development disabilities included in educational institutions within the territory of Belgrade.
The mayor, Siniša Mali, speaking at the event in the Old Palace, noted that the service of personal assistants is one of the City's priorities, because it defines social policies aimed towards those most in need.
He reminded that the services of 44 personal assistants were provided in October, and another 140 in November and December. "We are reaching the point where all children in the educational system, having passed the required commissions, can have personal assistants", said Mali, noting it as a great success.
According to him, children with personal assistants show improvement, parents have more time to dedicate to other children, or find employment and thus improve their material status.
The social work centre will, he added, be included in the entire process, as a form of supervision and control, giving the parents additional confidence that everything is being done properly.
The City of Belgrade will, he added, continue to engage responsibly in social policy and with those who need it most, such as persons with disabilities.
Source: TANJUG