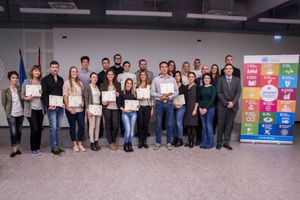 The production of mushrooms from coffee residue, the manufacture of pet houses from eco materials or a system for bike sharing – these are some of the entrepreneurial ideas of the attendees of the training for environmental entrepreneurship organized by the United Nations Development Programme (UNDP) in cooperation with the Ministry of Youth and Sports.
Victory went to "green" ideas that were, according to the jury, the most innovative and ready for implementation, had a financing plan, as well as a very important item – the potential to employ young people. Future "green" entrepreneurs received vouchers for the procurement of IT equipment that would help them start their business.
The first place was shared by the ideas of Zorana Lanc and Boris Obrovski regarding the thermal vision recording of buildings to reduce energy waste and the idea of Dejan Letić regarding the recycling of car oil filters. Milena Tabašević was also rewarded for her proposal for a GreenTrack application, Branko Dimitrijević for his idea for manufacturing agro-briquettes, as well as Aleksa Živković for his proposal of recycling and transporting PET packaging by bicycle.
The three-month training was organized under the project "Strengthening of Capacities for Improved Implementation of International Agreements in the Field of Environmental Protection" financed by the Global Environmental Fund (GEF) and UNDP, with contributions by institutions of the Republic of Serbia.
Source: www.rs.undp.org