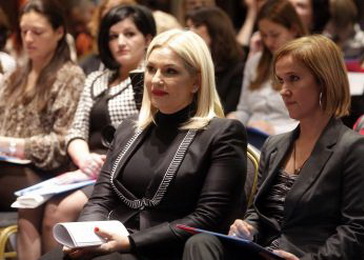 Deputy Prime Minister of Serbia and Minister of Construction, Transport and Infrastructure Zorana Mihajlović, also the president of the Coordination Body for Gender Equality, stated on 7 December that a lower percentage of employed women compared to men in Serbia indicates that women are still in an unequal position.
Mihajlović, while presenting plaques on the European Gender Equality Charter to presidents of 34 municipalities in Serbia, said that women's employment in Serbia is at 35, while men's is 50 percent, and that women are in a more unfavourable position in the south and east of Serbia than in the north. She also reminded that this year 34 women were killed in family violence, and announced that the Coordination Body for gender Equality will declare 2016 the year of combating violence against women in Serbia.
She stated that the budget for 2016 will be gender sensitive, and for the first time in Serbia gender budgeting will take place. She noted that a new law on gender equality with an accompanying strategy and action plan are also prepared, and local self-government units need to be included in the entire process.
As part of the European Progress project, aiming to contribute to the sustainable development of the south-east and south-west of Serbia, 34 municipalities have signed the European Charter on Gender Equality.
The plaques were awarded at the event "Gender Equality at the Local Level", held at the Metropol Hotel, organized by the United Nations Agency for Gender Equality and Women's Empowerment – UN Women, with the financial support of the EU and the Government of Switzerland through the European Progress development programme.
Source: www.srbija.gov.rs