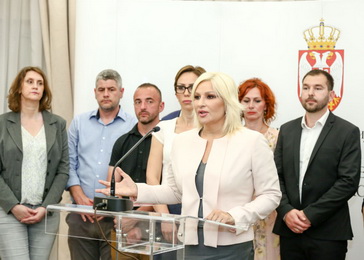 Deputy Prime Minister of the Republic of Serbia and Minister of Construction, Transport and Infrastructure Zorana Mihajlović signed agreements on 10 June for the implementation of projects on safe houses, shelters and reception centres for children, with a value of approximately RSD 9 million.
The Government and line ministry, as she noted, are building and renewing roads, bridges, railways, airports and river infrastructure for citizens of Serbia, but nothing being done in those areas will be enough while there are women and children suffering violence. Mihajlović, also the President of the Coordination Body for Gender Equality, noted that only when we do not let a single woman or child suffer shall we be on the road to creating a successful and modern country.
The money for the implementation of projects in the field of social housing is being awarded through a public call by the Ministry of Construction, Transport and Infrastructure.
Nine agreements have been signed this time with associations and civil society organizations, with a total value of RSD 8.75 million, for projects covering seven safe houses – from Niš, Leskovac, Vranjska Banja, Sremska Kamenica, Sombor, Smederevo and Sremska Mitrovica, the child and youth reception centre from Kragujevac and the children's shelter from Belgrade.
The main goal of the project is the implementation of projects for the implementation of works on facilities for housing victims of domestic violence and children, to improve their living conditions.
Source: www.srbija.gov.rs