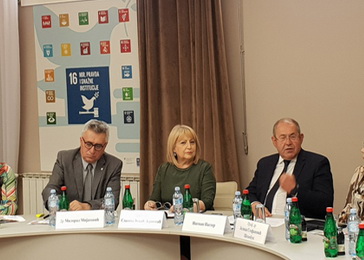 The public review where the first Voluntary National Report on the Implementation of Sustainable Development Goals was presented was held on 12 June at the Assembly of AP Vojvodina.
Presenting the report, Minister without Portfolio charged with demographics and population policy and President of the Intersectoral Working Group for the Implementation of the UN Sustainable Development Agenda by 2030 Prof. Dr Slavica Đukić Dejanović noted that this document shows how much has been achieved in social, economic and environmental development for the most vulnerable.
"The sustainable development goals are intended for everyone, and it is the obligation of authorities to include all partners in this process, so that we can greet 2030 in a new environment, sustainable for the forthcoming period", said the Minister.
"The first voluntary national report by the Republic of Serbia promotes the cooperation process of the entire Government and all of society towards creating sustainable opportunities available to all and everywhere in Serbia", said the Minister, adding that this process recognizes the factors that have contributed to the successes, but also the so-called bottlenecks – weaknesses and deficiencies, mapped challenges and areas where we need support and assistance.
Prof. Dr Đukić Dejanović also reflected on the significant contributions provided in this reporting period primarily by the ministries, Government offices, independent state bodies, agencies, businesses, United Nations organizations in Serbia and other international partners, particularly the German organization for international cooperation – GIZ.
The delegation of the Republic of Serbia will present the first Voluntary National Report on 17 July at the UN seat in New York.
Source: www.mdpp.gov.rs