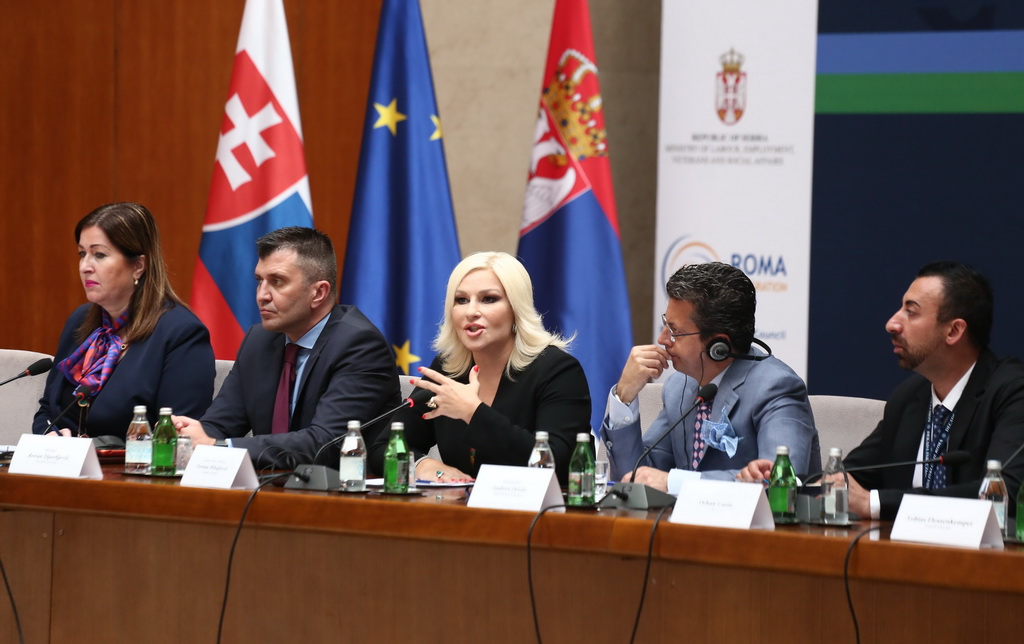 Deputy Prime Minister of the Republic of Serbia Zorana Mihajlović assessed on 21 June that much remains to be done regarding Roma inclusion, because of the stereotypes and prejudice present in Serbia and other countries in the region.
Mihajlović, the President of the Coordination Body for Monitoring the Implementation of the Strategy for the Social Inclusion of Roma in the Republic of Serbia (2016-2025), speaking at the regional conference dedicated to the Roma Inclusion Decade "Heritage, Experience, Best Examples and Further Steps", noted the importance of work in resolving the numerous issues faced by Roma.
She warned of the many everyday issues faced by Roma and noted the importance of work not only on education and employment, but also their housing conditions. Serbia is already utilizing approximately EUR 9.6 million for this issue through IPA programmes.
For the moment we have provided 700 Roma, including 250 children, and they live in normal apartments now. This programme is being implemented in 13 municipalities across Serbia. We are also implementing a programme from IPA funds, defining urban plans and technical documentation for housing. We are currently negotiating a new IPA 2018 programme of EUR 21 million that will mainly be aimed at resolving the housing issues of Roma, noted Mihajlović.
The Minister of Labour, Employment, Veteran and Social Affairs Zoran Đorđević stated that inclusion will remain a Government priority, but also noted that there is a lack of greater involvement of the Roma community in activities for their full integration as equal citizens of our society.
The Minister said that Roma need to be an integral part of our society and emphasized that he is proud of Serbia for being a country rich with national minorities, and because Roma are also citizens of Serbia.
The regional conference "Heritage, Experience, Best Examples and Further Steps" dedicated to the results of the Roma Inclusion Decade was held by the Ministry of Labour, Employment, Veteran and Social Affairs.
It hosted representatives of countries from the region – Macedonia, Albania, Bosnia and Herzegovina and Slovakia, and over 120 representatives of various institutions and organizations, primarily Roma institutions and organizations, and numerous partners of the Ministry, such as the European Union Delegation, the Council of Europe Mission, UN Women, Regional Cooperation Council, GIZ, and others.
The conference was organized under three panels covering the following topics: non-discrimination, legal aid and social inclusion of Roma, status of Roma women in society and the family (results and challenges), education and employment as a means for preventing the marginalization of Roma, housing as an important element of the social inclusion of Roma, healthcare and a healthy family environment.
Source: www.srbija.gov.rs