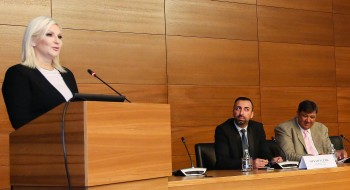 Deputy Prime Minister of the Republic of Serbia and President of the Coordination Body for the Social Inclusion of Roma Zorana Mihajlović stated on 19 October that Roma inclusion in society is not only an issue for a single institution, but for the entire Government, the non-government sector, Roma associations and our European partners.
Mihajlović, opening a seminar on the inclusion of Roma in our society, noted that we should all strive together to enable better conditions for the Roma community in the field of employment, education, healthcare and housing.
It is very important, she noted, to adopt strategic documents, such as the strategy and action plan for Roma and the Law on Housing, meeting international standards, but it is even more important to contribute to the better life of members of this community through specific activities.
The High Advisor for the Coordination of Roma Policy at the European Commission Marta Garcia Fidalgo noted that Roma inclusion is at the heart of the European integration of Serbia.
The Head of the Negotiation Team for the accession of Serbia to the EU Tanja Miščević stated that the inclusion of the Roma community in the social life of the country is very important for the European integration of Serbia.
This places us among modern, developed European countries. This is a large endeavour and I am grateful to Mihajlović for a job well done, because as a team we represent Serbia both in the negotiations, but even more in the reforms we are implementing, said Miščević.
The President of the National Council of the Roma National Minority Tefik Ramadanović noted the importance of this seminar, stating that its goal is increased visibility of Roma in institutions and the overall society in Serbia.
Source: www.srbija.gov.rs