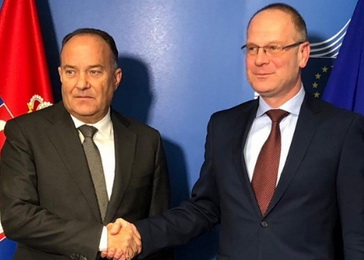 Commissioner for Education, Culture, Youth and Sport, Tibor Navracsics, and the Minister for Education, Science and Technological Development of Serbia, Mladen Šarčević, signed on 5 February an Agreement upgrading Serbia's participation in the Erasmus+ programme.
The signing ceremony took place in Brussels and marked the move of Serbia from a Partner to a Programme country under Erasmus+.
Ahead of the signature, Commissioner Navracsics said: "I am very pleased that we are today welcoming Serbia as a fully-fledged Erasmus+ Programme country. This new status will allow Serbia to participate in more actions in the fields of higher education and youth, start their involvement in sport, vocational education and training as well as in actions for school and adult education staff."
Serbia has been an active partner in the Erasmus+ programme: since 2014, almost 7,000 Serbian students and staff have experienced a learning period abroad, and around 4,300 Europeans went to Serbia. By becoming an Erasmus+ programme country, Serbia joins a network of 33 countries: 28 EU Member States, Iceland, Liechtenstein, Norway, Switzerland, Turkey and the former Yugoslav Republic of Macedonia.
Erasmus+ is a European Union programme providing support to cooperation projects in the following three fields: education, youth and sports. The total funding allocation for the whole period stands at EUR14.7 billion and the programme is set to run through 2020.
Serbia takes part in the largest number of Erasmus+ projects, receives the biggest funding from the programme and has had the biggest number of participants in the programme of all the countries in the Western Balkans since the programme's inception in 2014. So far, educational institutions and youth organisations have taken part in projects with the total value of EUR67 million, while the number of staff, students and pupils who have seized the opportunity to study abroad reached over 5,800.
Currently, there are some 300 project participated in by schools, youth organisations, universities, companies etc. this projects offer exchange for some 2,000 students and over 300 teachers, pupils and youth workers a year. Thanks to the new status of a full-fledged member, Serbia will increase its opportunities for professional training of its academic community abroad.
Tempus Foundation is responsible for the promotion and management of the Erasmus+ programme in Serbia.
Source: europa.rs