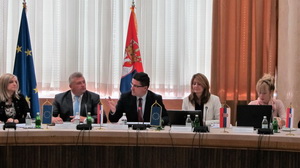 The second session of the Council for monitoring the implementation of the pre-accession programme for rural development for the 2014-2020 period (IPARD Monitoring Council) was held on 3 October 2017 in Belgrade, noting that Serbia could receive a green light from the EU for starting the realization of IPARD funds to the amount of EUR 175 million in November.
The first calls for farmers could be issued by December or January, as stated during the session attended, in addition to the members of the council, by representatives of the Directorate General of the European Commission for Agriculture and Rural Development, the EU Delegation to Serbia, the Ministry of Finance, the Ministry for EU Integration and the Office for the Audit of the System for Managing EU Funds.
The Secretary of State of the Ministry of Agriculture, Forestry and Water Management Željko Radošević stated that the EU rural development policy, with its foundations that will be set jointly during the coming years through the implementation of the IPARD II programme, represents a tool for problems faced by agricultural producers in Serbia, particularly those in areas with difficult working conditions for agriculture.
Investments during the first cycle will be in equipment and machinery for primary manufacture and the processing industry. Funds for processing will cover all four sectors – dairy, meat, fruit and vegetables.
Liam Breslin, Manager of the Pre-Accession Assistance Unit of the Directorate-General for Agriculture and Rural Development of the EC, said that Serbia will submit the accreditation package in two weeks, and expects it will receive a green light in November.
Source: www.minpolj.gov.rs