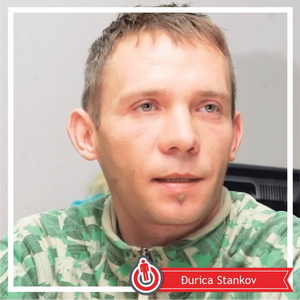 From the presentation at the 32nd Belgrade Ignite "Get Involved no. 3" (29 October 2015, Impact Hub, Belgrade)
A long time ago, now 12 years, through a series of events I entered the world of the porno industry. In a way – at that moment – it seemed to me as an opportunity for a new and better life, it gave me hope for a better tomorrow, a better life for my family and myself. However, the act of pornography mostly carries within itself risky sexual behaviour (…). One day, during a very routine control, I was told: "Keine positive, keine negative." Very quickly, after additional testing, I received a test stating: "HIV positive". That is when the most difficult period of my life began, facing the problem, facing myself, finger-pointing from all over, I lost my closest friends… actually, true friends remained, those who were not true, they left on their own.
I learned an important thing, and that is to never – even if we receive a negative result in a joint testing – never have unprotected sex, always wear protection! I am still here with you today, I live with HIV, as they say, although I do not like the expression. I am frequently discriminated against by my environment, and the saddest thing of all – by medical workers. When you get a headache or a toothache, that's when society's support stops.
Therefore me and my friends, other young people living with HIV, have decided to found the AS Centre for the Empowerment of Youth with HIV. Although projects are written every day about how youth with HIV are insufficiently included in society, how they are on its margins, we have shown that there is another approach: we hold lectures, discussions, education, we participate in fairs in Serbia and abroad, we hang out with young people and transmit the message of prevention, we influence their awareness not to commit the mistake I have made and to always use a condom for every sexual relation. Our voice is heard by decision-makers as well. I am really proud of the people I work with, because we are all in this together: people living with HIV, people without the virus, members of the LGBT population, members of the transsexual population, and everyone else – all of us the same, because we all have the same hopes and desires. (…)
We are truly being included in society, we have the support of social institutions, and not just here! Since 2014 my struggle and our work have also been recognized by the European Commission, and now I am a member of the advisory body, i.e. the EU HIV/AIDS Civil Society Forum at the European Commission in Brussels. This is a new life and new beginning for me.