Social Inclusion and Poverty Reduction Unit of the Government of the Republic of Serbia and the association "Serbia in Motion" organised the 39th Belgrade Ignite called "Get Involved No. 5" dedicated to social inclusion. The event was held on Tuesday, 24 October 2017 in the Impact Hub in Belgrade. For the fifth consecutive year, the organisers celebrated the International Day for the Eradication of Poverty and encouraged visitors and participants to fight for an inclusive society.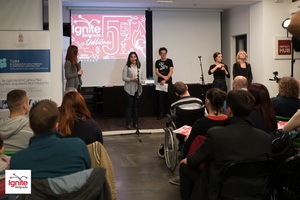 The Fifth Belgrade Ignite on social inclusion was opened by Dragana Jovanović Arijas, Deputy Manager of the Social Inclusion and Poverty Reduction Unit of the Government of the Republic of Serbia, who welcomed the visitors, presenters, and organisers and thanked them for sharing sparks of inspiration. To symbolize this, she handed the participants sparklers which they could then ignited from one another.
The visitors of the Belgrade Ignite had the opportunity to hear presenters' personal stories and how, with their everyday efforts, they are trying to build an equal society for all and find answers to questions such as: how does active aging prolong youth; how to develop skills of children without parental care; what does a day in the life of a LiceUlice magazine vendor look like; how do migrant children live and go to school; can girls be rock stars; is there freedom after serving a prison sentence; who are the people providing support to women with disabilities; which are the everyday problems faced by trans persons in Serbia; how to empower people with disabilities through programming; how did one young woman become a successful entrepreneur.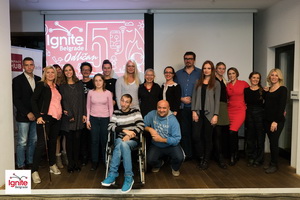 The visitors of the 39th Belgrade Ignite "Get Involved No. 5" had the opportunity to hear dynamic five-minute presentations by Nataša Lukić who spoke about aging; Lidija Bukvić, a special education professional and programme director in the Centre for Positive Youth Development CEPORA; Marko Ondrik LiceUlice magazine vendor; Tatjana Gutić psychologist from the Psychosocial Innovation Network; Milica Đurić participant of this year's Rock camp for girls; Đorđe Vasilijević a former prisoner who spoke about the post-penal reception; Jasmina Barać Petrović who is fighting to improve the status of persons with disabilities; Rajka activist from  the "Egal" organisation who is fighting for the rights of transgender community; Dobrosav Vlašković who presented his work with assistive technologies; and Tanja Roljević who is an entrepreneur.
You can watch the videos containing the presentations of the 39th Belgrade Ignite on our YouTube channel.
In the Impact Hub, the visitors were also able to buy the latest edition of the magazine LiceUlice. The distribution of this magazine is done through a network of street vendors, all members of socially vulnerable groups, who earn 50% from each copy they sell.
More information can be found at srbijaupokretu.org and on the Facebook page www.facebook.com/BelgradeIgnite.