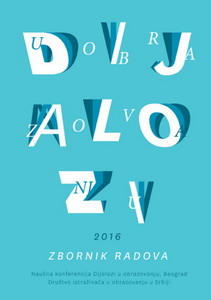 The Collection of Papers presented at the Conference "Dialogues in Education"  was published. The Conference, held at the Faculty of Philosophy in Belgrade on April 19, was organized by the Society of Researchers in Education in Serbia.
The representatives of institutions positioned by their work as relevant in the field of education research in Serbia participated in the conference. Eighteen research projects were presented. Some of the organizations which participated in their realization are: the Ministry of Education, Science and Technological Development, UNICEF office in Belgrade, Institute for Psychology, Institute for Educational Research, Institute for Pedagogy and Andragogy, Social Inclusion and Poverty Reduction Unit of the Government of the Republic of Serbia, Institute for Evaluation of Education Quality,  Centre for Educational Policies.
Click to download the Collection of Papers "Dialogues in Education".
You can search for more information on the conference at the web site www.dios.edu.rs.