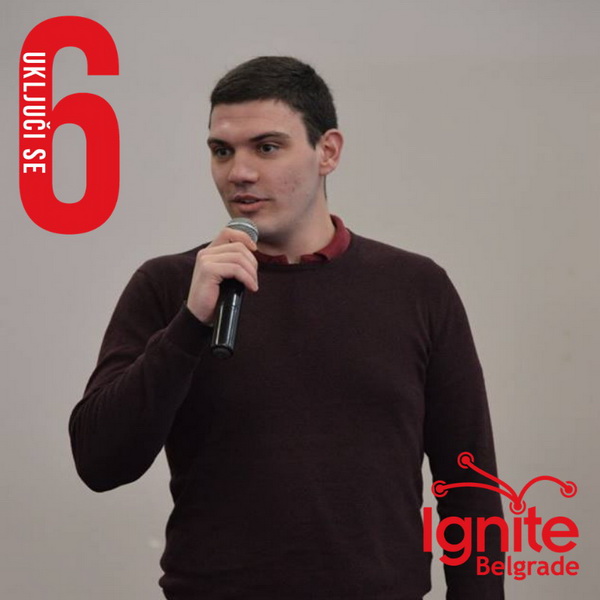 Transcript of the presentation by Jovan Jovanović at the 41st Belgrade Ignite "Get Involved no. 6" (7 November 2018, Impact Hub, Belgrade)
The Practical Academy is a project that aims to provide university students with work placement opportunities in micro, small and medium enterprises, something entirely new in the Nišava District. The Nišava district is made up of six municipalities, with the city of Niš in its central part, so you could say Niš is "The Lord of the Rings".
When it comes to work placements, we can talk about three groups of stakeholders. The first one is students (and I am one of them). A survey of their attitudes shows that students do not think about doing internships early enough, and recognize their importance only at the end of their studies. On the other side, small businesses owners believe that work placements in small businesses cannot compete with the massive application in large-scale systems, and are concerned that they might not be as impactful. Nevertheless, even though large corporations have concrete solutions, small businesses are also concerned whether the knowledge that students acquire there is sufficiently applicable to small and medium enterprises (SMEs). On the third side we have universities and faculties: they often implement work placement programmes in large corporations, and recognize there is an opportunity for implementing these programmes in SMEs as well, but are not sure that the latter sufficiently contribute to development, and this will be the case until small businesses recognize their own role in the broader economic context.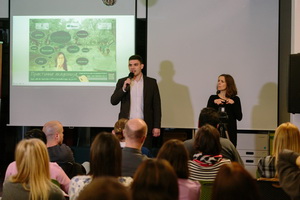 Fifty-four students, both male and female, from five faculties, as well as fifteen SMEs and cooperatives, took part in the Practical Academy. The first phase involved practicing diagnostics, where small business owners, students and their mentors visited businesses, identified problems faced by these businesses, and examined the solutions proposed by the students for overcoming these problems. The second phase envisaged the incubation of project ideas, where students were placed in an inspirational setting to work on solving the problems. We were placed in a camp on Kamenički Vis and spent two weeks in a co-working/co-living setting where we could freely organize our work and leisure time, from the moment we woke up until we went to sleep. The third phase involved practicing implementation, and its objective was to apply the solutions we developed in our effort to help the companies and contribute to economic development.
When we completed the work placement programme, four students of the Faculty of Occupational Safety were offered employment opportunities, several graduate theses were written on the subject of the Practical Academy, and the students who were hired went on to accomplish remarkable results in the companies they work for.
What made the biggest impression on me was cross-departmental cooperation – working with my student peers from various other faculties. The camp setting helped us rely on each other; we lent a helping hand to each other any time any of us had difficulties solving a problem. Even though we didn't know each other that well beforehand, we became one big family.
Success is not about doing what you love, but loving what you do. How about you, what's your formula for success?