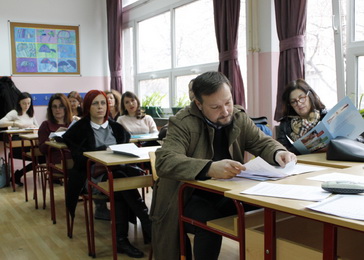 More than 20 providers have attended training for the implementation of public interest professional development programmes in the field of entrepreneurship, to be organized for another 3,000 teachers from 300 schools during the period February-April 2019.
The authors of the programme "Professional Development Programme – teacher trainings in the field of developing entrepreneurial competences in teachers and students and creating conditions for the implementation of entrepreneurship in primary schools" are Vesna Kartal, Mr Mirjana Ilić and Dr Dušan Stanković, with the programme organization and implementation by the Association of Businesswomen of Serbia.
The contents of the training cover the following thematic areas:
Entrepreneurial spirit and entrepreneurial orientation,
Student cooperatives as an entrepreneurship model,
Developing an entrepreneurial project, and
Project portfolio.
A selection of 300 primary schools from across the territory of the Republic of Serbia was made in cooperation with school administration of the Ministry of Education, Science and Technological Development. Ten teachers (general education and subject-oriented teachers) from each one of the schools will attend the training.
Each school that has teachers attending the training will also receive a Guide for Establishing Student Cooperatives, developed for this project.
The best practice examples of entrepreneurial projects produced by the schools after the training will be published on the portal www.skolskopreduzetnistvo.rs, and the Government of the Republic of Serbia portal "Serbia Creates" www.serbiacreates.rs.
More information at www.mpn.gov.rs