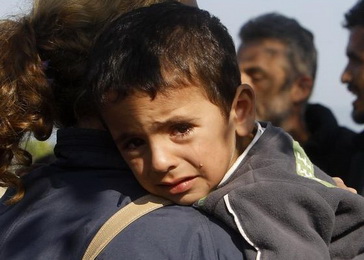 The foreign affairs ministers of Austria and Germany, Sebastian Kurtz and Frank Walther Steinmeier and the European commissioner for enlargement Johannes Hahn espoused a unified EU response to the refugee drama impacting Europe and the Western Balkans on 27 August in Vienna.
At a joint press conference on the problem of refugees with foreign affairs minister of Serbia and Macedonia, Kurtz called on the EU to dedicate the same attention to the so-called Balkans route, as it gives the path across the Mediterranean.
He espoused a unified EU response to the refugee drama, instead of individual EU member states, such as Hungary and Denmark, implementing their measures, resulting in fences and walls.
Steinmeier espoused an acceleration of the European integration of Western Balkans countries, strengthening ties among Western Balkans countries, both economic and infrastructural, as well as those leading to people meeting. He also called for an urgent European response, with every member state to take on their share of the burden.
The European commissioner Hahn said that during the coming weeks the European Commission will propose for third countries to receive equal security status, i.e. for those not having the statute of safe countries to be declared as such. "We will also call for the responsibility in solving the refugee crisis to be taken on by all 28 European Union member states", said Hahn.
Source: euinfo.rs