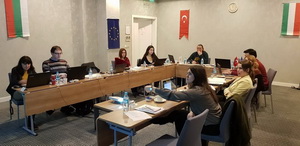 Youth Mentoring remains in its infancy in our country. The existence of mentoring support programmes, particularly for youth from vulnerable groups, is essential for the development of their potential, improving their skills and acquiring better opportunities in the labour market.
Online tools and an android app for phones are being prepared to bring mentoring closer to youth, making it one click away. These tools will provide additional support through e-mentoring.
A meeting on this topic was organized in Istanbul during the period 31 January – 1 February 2019. The meeting served to discuss current achievements of the project in Serbia, as well as in countries where parallel activities are under way: Italy, Turkey, Belgium and Bulgaria. In Istanbul, participants from Serbia had the opportunity to present comments and proposals to their partners from the consultations "Social inclusion and empowerment of youth from vulnerable groups" under the National Advisory Board, to consider suggestions received and to present the plan of a six-month mentoring programme for youth in Serbia. Furthermore, the meeting was an opportunity to present the final versions of the Guide for Implementing Youth Mentorship and the Tool for Self-Evaluation in Mentoring, placed at the disposal for mentors, coordinators of mentoring programmes, teachers, and all those interested in starting new, or improving existing mentoring programmes.
The project was supported by the European Commission through Erasmus+ in the field of Strategic Partnerships for Youth.
Source: www.bos.rs