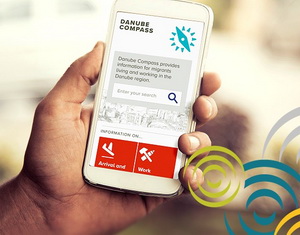 The Lawyers' Committee for Human Rights (Yucom) presented the Danube Compass website on 24 January in Belgrade. The website represents an informational platform facilitating the integration of foreign nationals and migrants, with information about various aspects of living and working in the eight countries of the Danube region.
The platform, available at www.rs.danubecompass.org, contains information on Austria, Croatia, the Czech Republic, Hungary, Germany, Serbia, Slovenia and Slovakia.
Speaking at the presentation of the platform the Commissioner for the Protection of Equality Brankica Janković stated that lack of information was the biggest problem for all migrants. She said that information is insufficiently systematized, with frequent problems presented by language barriers and professional jargon, adding that the platform in Serbia was translated into English, Russian, Chinese and Farsi.
The Director of Yucom Katarina Golubović said that the information has been translated into 21 languages and that the project includes eight countries, institutions and non-government organizations.
"Danube Compass is a website containing information on the healthcare system, job opportunities, education, and everything that comprises everyday life in the eight countries of the Danube region", said Katarina Golubović.
The platform is part of the project "Danube Information Platform for the Economic Integration of Migrants", started two years ago. The DRIM project was co-financed by the EU (ERDF, IPA) through the Danube transnational programme. The goal of the project is to improve the capacity of public institutions for facilitating the economic integration of migrants in the eight countries of the Danube region.
Source: Beta, taken from www.euractiv.rs