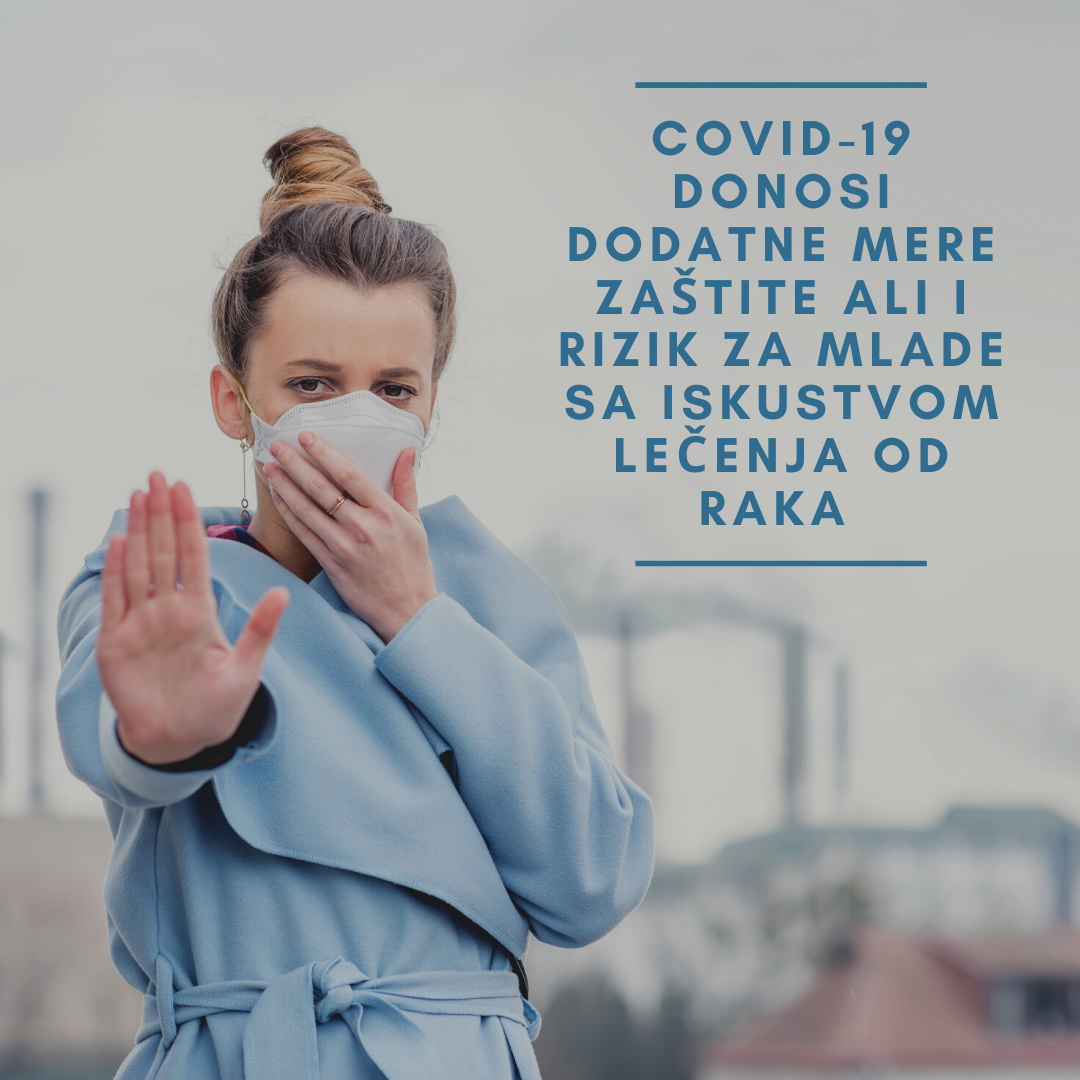 Guest blogger for the Social Inclusion Blog: Milkica Dimitrijević
Isolation, disinfection, hand washing, social distancing – these preventive measures have already been a part of the daily routine for children and youth receiving cancer treatment, as well as for their families. Chemotherapy and radiation therapy cause the immune system to weaken, thus increasing the risk for oncology patients of contracting various infections that may threaten their lives. How does this pandemic affect them?
They still have to follow the same rules as before, only with much greater risk, caution and maximum isolation. Even before the pandemic, oncology patients and their families had to avoid crowds and physical contacts with other people, be very meticulous about the disinfection of their homes and wear protective masks. However, these new circumstances come with increased risk and it is, therefore, crucial that we all follow the preventive measures that will also help to protect them.
During the cancer treatment, the children and youth suffering from cancer do not spend all of their time in hospitals – they go home between the sessions. Under the current conditions, going or coming back from home for therapy is potentially risky. The physicians at the hospital wards and institutions where children and youth receive cancer treatment have issued rules and instructions to be followed in this situation and they are the best people to consult with if you or your family member is treated for cancer.
If the cancer patients spend time at home in between sessions, there is great risk even when their family members' go out for grocery shopping. Therefore, if you are a neighbour or a friend of a cancer patient, offer to go grocery shopping instead of their household members, while respecting all preventive measures in order to protect yourself and them.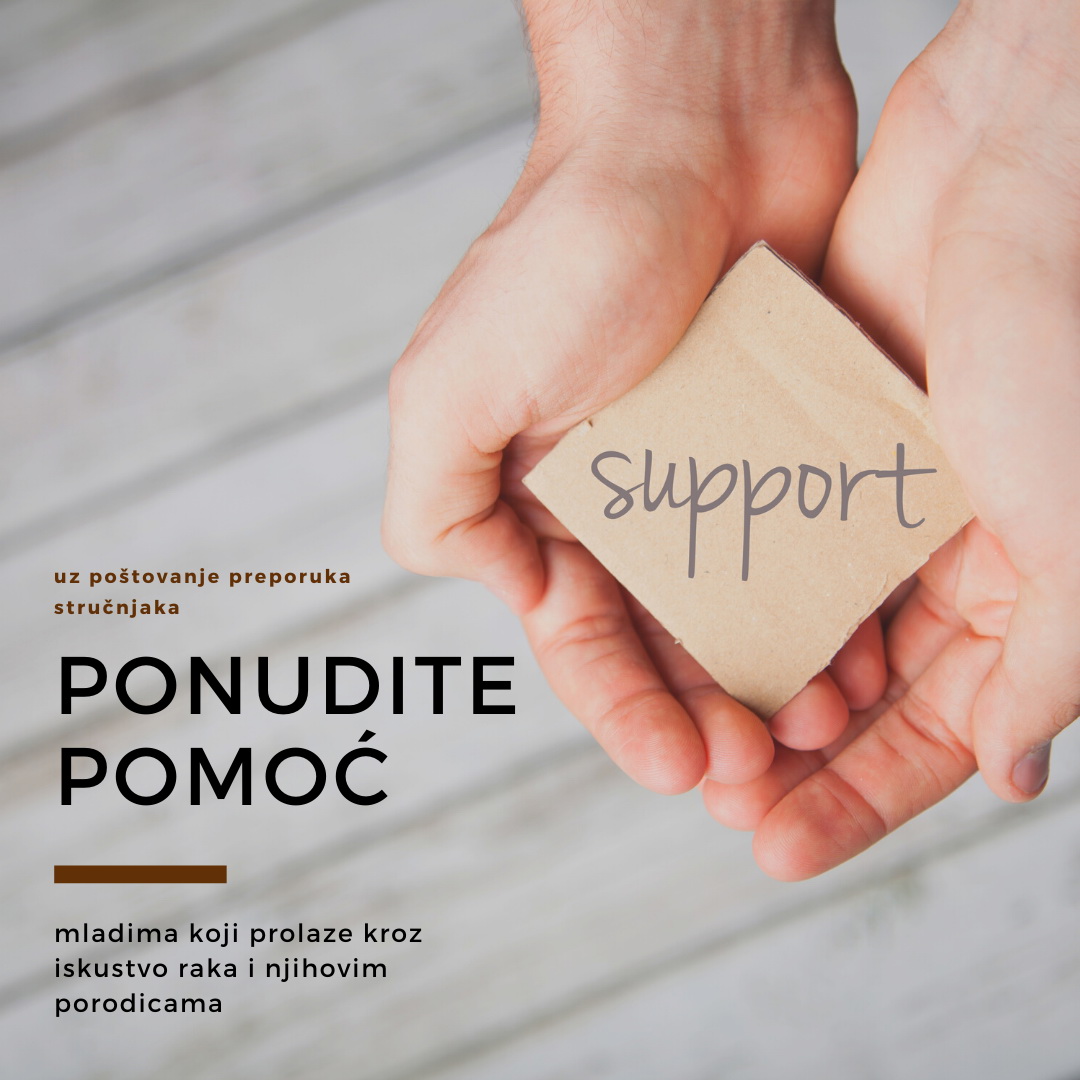 Do not visit them. There are plenty of online contents that you can watch together and comment on through web applications. Filling the free time in isolation is a challenge, but there are ways. You can read, play board games with your household members, cook and share your views about it with others. We have the time now to see all TV series and films on our list. You can study, prepare for an entrance examination and check each other's knowledge online. Help your friend who has cancer to understand the learning units. Play online games. Draw, write poems, stories, a diary. Learn a foreign language. And do not forget about internet safety.
Children and youth who have cancer are unable to go to school, due to either the therapy, or the weak immunity and low blood count, while their fatigue and exhaustion make studying seem like too much of an effort. In an attempt to reduce their falling behind their peers at school, teaching is provided in hospitals for primary school children ("Dr Draga Hercog" primary school in Belgrade organizes tuition at the hospitals where children are treated, while in other towns this is done by schools authorized by the Ministry of Education). However, this kind of tuition is not provided for secondary school students because of their various curricula and, therefore, teacher and peer support is especially important for them.
Since tuition is organized online during the lockdown, this is highly beneficial for the children and youth who are treated for cancer because it allows them to keep up with their peers more efficiently. It also mitigates the feeling of social isolation, since they are not alone in this situation as all of their school friends are experiencing the same. We have heard from their parents lately that children and adolescents find this learning model quite agreeable.
Similar views are shared by higher education students, too. They are able to follow the lectures remotely, as well as to complete their pre-examination assignments online, which allows them to continue their studies during their cancer treatment.
Teachers and peers also play a significant role after the cancer treatment is finished, when they return to school. Teachers can find guidance for the children's return to school in this link, while here is some more information about the learning problems encountered during and after the medical treatment.
This lockdown puts all of us in a similar position where we can try to be more supportive to each other, but we must not forget what a cancer treatment entails. Video calls and texting are not adequate substitutes for a hug, but still they are excellent tools for socializing in the current circumstances. There will be time for hugging later, now let's weather this storm together. We need to follow the preventive measures, since that is how we protect each other.
COVID-19 has caused a situation that is entirely new to us and it is all right to feel fear, anxiety, insecurity and panic. It is also fine if somebody feels nervous about the lockdown. For that reason, it is especially important that we take care of our mental health. And we are also here to support each other. We are in this together.
The mental health of youth who are receiving or have received cancer treatment is not a topic that makes a lot of headlines, yet it must not be neglected – especially not nowadays. Milica Šimonović and I gave a speech about this issue at the 42nd Belgrade Ignite, and our speech can be found here. There is an online peer counselling centre for youth who are treated for cancer at mladice.org. Write to us, we are here to listen, to talk, to understand you, to try and resolve some of your dilemmas, to support you and keep you informed.
Go ahead and also visit our websites at www.cikaboca.org and www.mladice.org. Since questions are many and answers are few, with the help from One Cancer Voice and NHS England, we have tried to give answers to the questions that worry oncology patients, which are available at this link.
Hopefully the current situation will have ended before our eighth "We Can Do Anything" summer rehabilitation camp, scheduled in August, and that it will, indeed, rehabilitate us both mentally and physically. The dates are set and we hope we will also be able to secure the funding for the organization.
(SURVEY) Young People Urge: Take the situation seriously – stay home!
– What was your first thought when the virus broke out?
Milica (23): Since I am a cancer patient, they say I am in the high-risk group, which certainly additionally influences my perception of the entire situation and fuels my anxiety. Moreover, the fear is not caused only by the virus, but also by the uncertainty that comes with it and the questions building up in my head: what if some of the people close to me are infected, what if I have the virus and I'm spreading it around without even knowing, what if one of my friends dies from the virus, what will happen when all of this ends, will I be able to graduate this year, or begin my Master's studies, how will this situation affect my future…?
Dušan (23): I work at a hotel that has international guests. I try to follow the prescribed measures.
– What message are young people sending to their peers?
Dušan (23): I am telling my peers that the most important thing is TO STAY HOME! Because that is the only way for us to go back to normal as soon as possible.
Milica (23): It seems to me that it is so easy to become passive in this situation and sweep our duties under the rug, but I believe it is important not to understand the time ahead of us as a holiday, but rather as an adaptation to the circumstances – the continuation of life under slightly changed conditions, and I think it is important that we do not let it slip our mind that all this will eventually end and that our schools, universities, jobs and duties will be waiting for us.
Uroš (18): It is better to stay home and take care of one's own health and the health of others and, since the end of the school year is near and there are upcoming entrance examinations etc., we can use the time at home to our advantage.
– What message are young people sending to adults, how should they take care of themselves and others?
Milica (23): I urge the adults to take the situation seriously! It is important they know that it is OK to ask for help if they cannot handle the overwhelming emotions caused by this whole situation by themselves – many psychologists, psychotherapists, psychiatrists, students and volunteers today offer psychological first aid to people who need to talk to someone (helpline numbers can be found on the internet).
Dušan (23): Well, first of all, people should not neglect themselves, because if we neglect ourselves we will not be able to take care of others.
***
Milkica Dimitrijević is a student of psychology and a co-founder of the group of young people treated for cancer, called MladiCe, which provides peer support and social rehabilitation to children and youth currently receiving cancer treatment, as well as to those who have been cured. She is confident that the world can be a better place if we work harder.