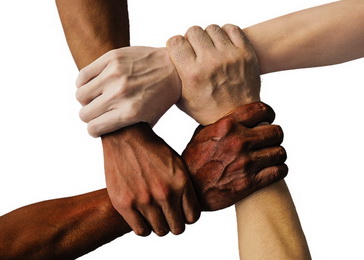 The Social Inclusion and Poverty Reduction Unit of the Government of the Republic of Serbia implemented a Training on Gender Sensitive and Affirmative Media Representation of Vulnerable Groups for Journalists late last year.
Training participants have written articles, with the support of the Social Inclusion Unit and its associates, noting the challenges faced by members of vulnerable groups, as well as positive examples of their achievements, solidarity and creativity.
It is with great pleasure that, during the week of people's solidarity and combating racism and racial discrimination, we present their articles on the status of various vulnerable groups.
Written by: Radoman Irić
They currently employ seven workers, their own members. They have seen five employees to retirement during the last two years. Ever since the founding, they write the projects themselves, hunt down donors, organize transport for their own members using their van. Because they have taken their future into their own hands, they do not wait for anyone's charity, they live better than many with whom they share a common fate. The profile of the Association of Paraplegics in Vranje differs from similar organizations across Serbia in many ways. Regardless of fate having placed these people in a wheelchair they are unable to move without, the members of this Association manage to get wherever they want, for whatever may be happening in Vranje. In addition, with the local self-government, with those invited and those uninvited, they wage a battle against prejudice and discrimination, successfully and without compromise. More…
Written by: Biljana Kuzmanović
Persons with disabilities in Užice could soon be provided with the option of assisted living as a new service – in addition to the seven existing ones using RSD 14 million from the city budget. The City Council has issued approval for a 70 square metre space to be awarded for use without reimbursement to the Association of Cerebral and Child Paralysis, preparing a project to apply for donor funds. More…
Author: Milana Kadrić
There are an estimated four to five thousand deaf and hard-of-hearing persons living and working in Serbia. Data from the Association of Serbian Sign Language Interpreters indicate there are only 46 interpreters working. Although a law on the use of sign language was adopted in 2015 that should have provided normal communication in schools, faculties and public services, as well as for acquiring the status of profession for interpreters, as of yet it is not being implemented. More…
Author: Gordana Nešović
The fight for equal rights of women in a man's world started a long time ago, and is still ongoing. Women are not provided equal educational, political, business, and many other options in most countries worldwide, even developed ones. The article speaks of Roma women, whose rights are endangered from multiple aspects. More…
Written by: Turkijan Redžepi
To have electricity, the citizens of the Niš settlement of Crvena Zvezda, beneficiaries of social assistance, must pay enormous bills, because the state did not provide them with individual power meters. The informal settlement is one of many in Serbia where Roma live. Yes, this is where the Niš Roma live. The settlement is named Crvena Zvezda, and was created in the nineteen-sixties. At the time, there were 5 huts with 30 families living there. Today, after 60 years, the settlement counts around 100 families with around 600 people. The problem faced on a daily basis by people living in such settlements, their seemingly insurmountable problem, is how to pay for the electricity they use. More…
Written by: Ljiljana Veljković Savić
The roundtable regarding "Availability of the Social Welfare System for the Roma Community" was held in the city administration building as part of the Roma Information Centre project "Support for the Roma Community in Using Social Welfare System Services". The social problems of the Roma population are very complex, says Rozalija Ilić from the Roma Information Centre. The whole thing should be tied to the social empowerment of people from the Roma population, so that they could work independently, not to be in the social welfare system. The adoption of a law on social cooperatives is expected to significantly improve the existing situation. The Roma Information Centre, with the Office for Human and Minority Rights, applied through the project "Support for the Roma Community in Using Social Welfare System Services" for the implementation of action plans related to the Roma population for themes that include human rights, ones that should always be in focus. More…
Written by: Aleksandar Nedeljković
A wall has been erected for the residents of the Roma settlement, separating them from the "rest of the world". The authorities still claim it is about their security and "sound insulation", yet they believe they are discriminated against, while part of the public that protested at first, already forgot they even exist. Precisely two and a half months ago, a debate was started that lead to divisive opinions among authorities, public enterprises, the non-government sector and the residents of the Roma settlement "Marko Orlović" in Kruševac, now surrounded by a wall. (p. 9, section "Here Around Us") More…
Written by: Katarina Baletić
The personal assistant service should help children with disabilities or development impairments attend school, communicate with their environment and move without difficulties. This service was introduced in Serbia in 2013, based on the Law on Social Welfare, and two years later it was proven to be welcome and beneficial, but unfortunately, also an excessive burden for certain municipalities. The latest available date for 2015 show that only one five local self-governments have personal assistants, but even they have an insufficient number, therefore many children are on waiting lists. More…
Written by: Biljana Ljubisavljević
Radiša Spasić (56), a graduate chemist, is one of the 7,000 former workers of failed Niš state-owned enterprises who cannot collect their unpaid salaries from the companies they worked for. Spasić is owed 77 salaries from the company Ei Poluprovodnici, where he worked for 20 years. He has been trying to collect them since 2008, when he was left unemployed. He was among the first, with his colleagues from the Electronic Industry, to go out in the streets in 2009 and organize protests before the City Council. More…