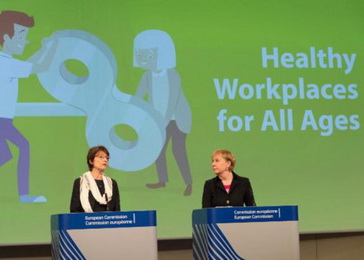 On April 15, in Brussels, the European Commission and the European Agency for Safety and Health at Work (EU-OSHA) in cooperation with the Netherlands EU Presidency launched a two-year Europe-wide campaign: Healthy Workplaces for All Ages, which is the world's biggest campaign in this area. Focusing on sustainable work and workplace safety and health in the context of the ageing workforce, the campaign provides a timely reminder that the younger workers of today are, the older workers of tomorrow.
The Campaign has four main objectives:
promotion of sustainable work and healthy ageing from the very beginning of working life;
stressing the importance of risk prevention throughout working life;
assisting employers and workers (including in small and medium-sized enterprises) by providing information and tools for managing occupational safety and health in the context of an ageing workforce;
facilitating information and good practice exchange.
As part of this new campaign, EU-OSHA is also releasing an e-guide on managing safety and health for an ageing workforce. 
Source: europa.rs