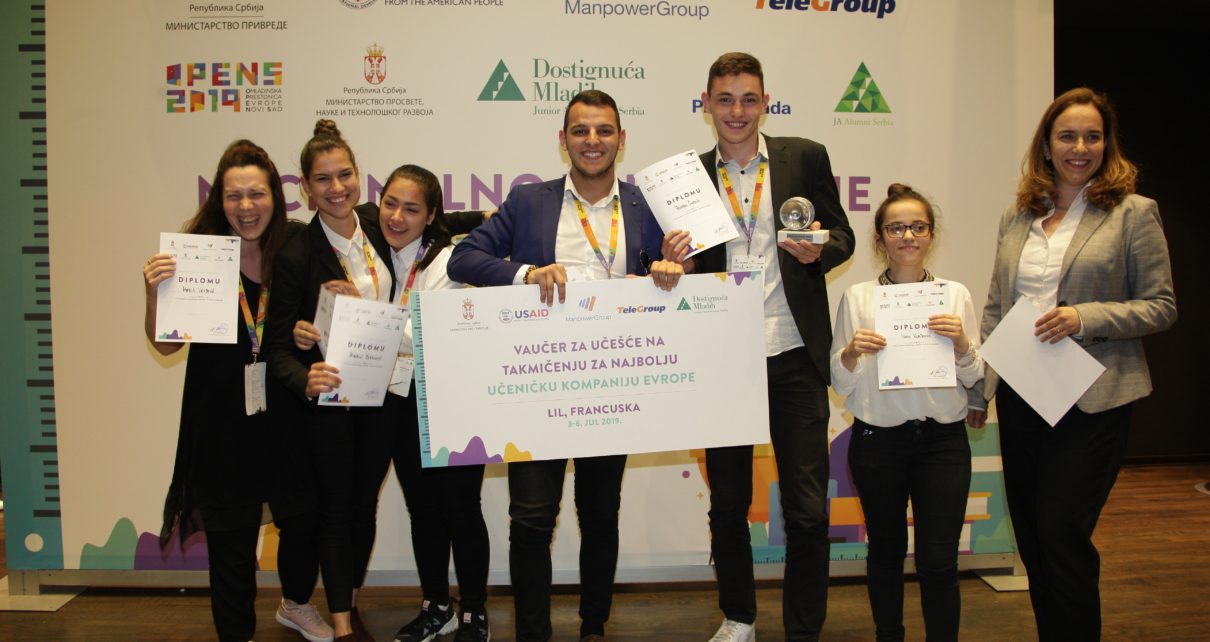 The "BioAlly" student company from the Medical School in Kruševac won first prize in the National Competition of Best Student Companies, held in Novi Sad from 19 to 21 May 2019. This student company produces an organic whey powder used as a solution for regenerating the body. The prize was awarded to the secondary school students by Katarina Obradović Jovanović, Assistant Minister of Economy, and they will represent Serbia in July at the European competition of student companies to be held in Lille, France.
Second place was awarded by Vukašin Grozdanović, coordinator of the OPENS 2019 project coordinator, congratulating the "BioCare" company ("Sestre Ninković" medical school, Kragujevac) that manufactures special preparations from a combination of dandelion and carrot.
Third prize was won by the students from the "Dolce Rosa" company ("Draginja Nikšić" medical school, Sremska Mitrovica), manufacturing cosmetics from rose derivatives. The diplomas and prizes were awarded by Ivana Mrđen, on behalf of the ManpowerGroup Srbija Company.
The special TeleGroup prize for best use of information-communication technologies was awarded to students from the "Sixth Sense" company (Technical School, Mladenovac), developing an innovative system facilitating independent movement for persons with disabilities in public spaces, at the same time making it possible for family members to locate them in real time wherever they are. The prizes were presented by Stefan Đurović and Maja Milenković from the TeleGroup Company, comprising a separate jury panel evaluating the use of IT tools in the business operation of student companies.
The twenty best secondary school teams from across Serbia presented products and services by their companies on Monday as part of the sales fair in the Promenada shopping mall, while on Tuesday they presented their business plans to an audience and the jury in the University Rectorate building in Novi Sad.
Students "employed" in these companies during the school year gain knowledge on market economy and entrepreneurship through "Junior Achievements" programmes, guiding their company from its founding to the development of a company report and the closing of the company. The "Student Company" programme is part of the Government of the Republic of Serbia project "Decade of Entrepreneurship" implemented by the Ministry of Economy. The European Commission designated it as the best model of entrepreneurial education for secondary school students. (…)
The competition was implemented by the Junior Achievements Serbia organization with financial assistance by the Ministry of Economy, United States Agency for International Development, the TeleGroup company, the OPENS 2019 project, the ManpowerGroup Srbija company and the Promenada shopping mall.
The entire text in Serbian can be found here.