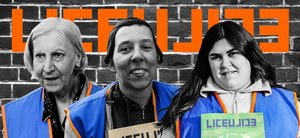 The first LICEULICE online crowdfunding campaign has begun!
For eight years, LICEULICE has been financially supporting hundreds of marginalised citizens. However, 80% of persons selling the magazine are men, because selling magazines on the street is often not a safe or sustainable option for most women. Therefore, LICEULICE has a new task – to include more women in their support programmes. Become a friend of the LICEULICE Fund and contribute directly to the changes in the lives of its female users.
LICEULICE is collecting 500,000 RSD which will enable it to train and employ ten women to work on all tasks related to subscriptions within the magazine, by the end of the year.
A successful campaign will enable LICEULICE to buy the necessary equipment, and by the end of 2018, train and hire ten women and girls who will perform all tasks related to preparing subscriptions and thus increase the number of magazines sent daily by 150%.
Guided by the principles of social entrepreneurship, the LICEULICE Fund helps those who find it difficult to find work. People with whom they work face a variety of problems, from physical and mental disabilities, through homelessness, long-term unemployment, fighting with addiction, or are users of psychiatric services. LICEULICE helps those who need it the most by providing them with jobs, security and socialization, which many of them did not have previously.
For more information on the work of LICEULICE, please visit the website www.liceulice.org.
Join the campaign and make a donation at www.donacije.rs/projekat/liceulice2018