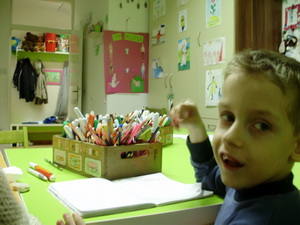 (…) The day-care centre for children and parents in Temerin has existed for ten years, but since it moved into the cosy and colourful little house in Pap Pavla Street in September 2012, it became the favourite address for around 60 kids with development disabilities. However, the "Little School", as the Centre is called affectionately by its beneficiaries and employees, the first house at the corner of a long street, however, is also happily visited by children from the general population. (…)
Various workshops are organized, from those for fun and play, up to those serving to adopt new skills, working-occupational, educational, or those stimulating social integration. A speech therapist and physiatrist hold exercises for eliminating physical and speech impediments, at the earliest possible age for children. The youngest attendant is only a year and a half old.
The joyful and pleasant atmosphere is certainly contributed to by the small, but well-chosen team of teachers. As part of the project "Improvement of the Rights, Employment and Living Conditions of Internally Displaced Persons in Serbia" from 2012, through the establishment of local social services, employment was found by persons from the following groups: single mothers, refugees and displaced persons, and persons with disabilities. (…) Not without pride, Ms. Biljana Maričić says she could not have picked a better team.
The day-care centre is open 365 days per year, and other than children from Temerin, it is visited by kids from Sirig and Bački Jarak. Among the favourite workshops are those for kneading pretzels and croissants, as well as those for singing, acting, theatre. (…)
Plans include future workshops in Temerin for support to parents, in order to empower them and teach skills for successful parenting in families of children with development disabilities.