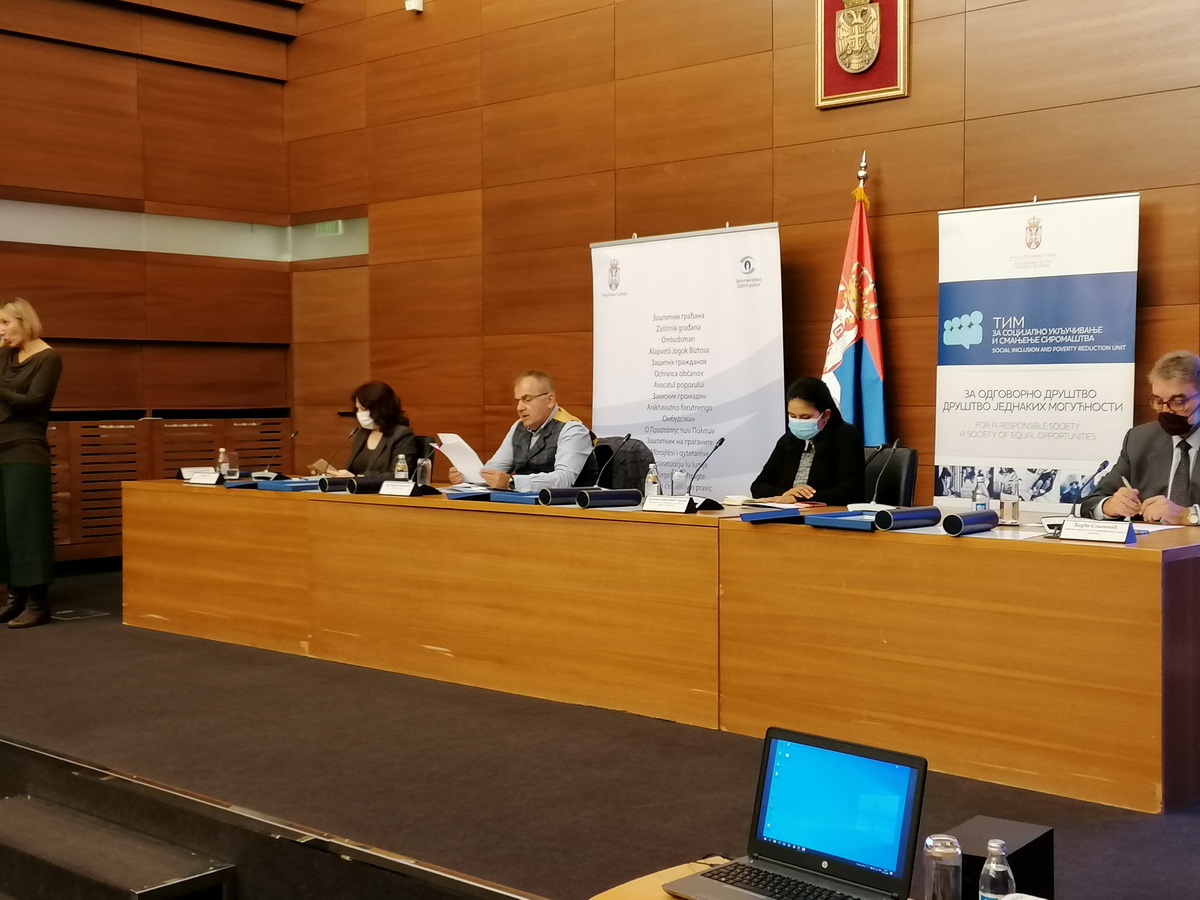 The Belgrade City Municipality of Vračar has received the Award for Advancement of All Forms of Accessibility in 2019 for making sustained efforts to improve accessibility, by implementing activities envisaged in the previous year's Action Plan for the implementation of the Strategy for the Improvement of Accessibility in the Municipality of Vračar for the 2018–2025 period. The City of Niš and the Svilajnac Municipality both won acknowledgments, Niš for improving accessibility in the city centre, and Svilajnac for ensuring the timely planning and improvement of accessibility in the previous year. This is the fourth time that the Ombudsman's office has granted this award, in cooperation with the Social Inclusion and Poverty Reduction Unit and the Standing Conference of Towns and Municipalities. This year's recipients of commendations for the advancement of accessibility are Kikinda, Žabari and Bela Palanka, whereas Sremska Mitrovica, Leskovac, Sombor and Vrnjačka Banja received letters of thanks for taking part in the public award competition.
At the awards ceremony, held in the MPs' Club (Klub Poslanika) on October 20th of this year, the Ombudsman Zoran Pašalić reminded that persons with disabilities struggle on a daily basis to overcome obstacles to their mobility, to the use of public transportation, and to access information and communication. "Yet, some of the most inaccessible institutions are precisely those that should be within easy reach of citizens wishing to exercise their fundamental rights, such as the social welfare centres, primary health care institutions, the National Pension and Disability Fund branches, and municipal and city administrations", stated Pašalić, and emphasized that he was especially concerned about the trend of new constructions or reconstructions not conforming with accessibility standards. "The society we strive for is one in which every person will be able to live independently and participate on an equal footing in all spheres of life, and accessibility is a prerequisite for an inclusive society for all," he concluded.
The Accessibility Award in Serbia follows the example of the Access City Award launched by the European Commission, stated Dragana Jovanović Arijas, manager of the Social Inclusion and Poverty Reduction Unit of the Government of Serbia. She highlighted some major public policy milestones in relation to persons with disabilities. "In March, we adopted the new Strategy for Improving the Position of Persons with Disabilities for the period from 2020 to 2024. Most importantly, at the end of last year, broad consultations were undertaken with civil society organizations working with people with disabilities, and in the coming days we are going to publish the draft Action Plan for the implementation of this Strategy," said Jovanović Arijas. She reiterated that the Strategy and Action Plan comprehensively address accessibility and envisage measures for its improvement, both in terms of access to the physical environment and access to information and communication. She assessed that Serbia's legislation is well-developed, but that implementation must be significantly improved. "The Government has established a Working Group for the coordination of measures for improving accessibility, and that is an excellent thing", emphasized Jovanović Arijas.
The Social Inclusion and Poverty Reduction Unit of the Government of Serbia is supporting the ministries to enhance monitoring of accessibility improvements, so that accessibility indicators were developed for public buildings and educational facilities. Recently, several municipalities initiated the development of local action plans for the improvement of the position of persons with disabilities, and SIPRU is supporting these municipalities to prepare the technical documentation, which is a pre-requisite for making facilities accessible. The SIPRU manager concluded that there is willingness and readiness to work on this at local level, but that additional and technical support is needed.
"We would like to see more local governments compete for the award with their projects and activities", stated Đorđe Staničić, secretary general of the Standing Conference of Towns and Municipalities (SCTM). "The purpose of this award is to spark positive competitiveness, and the purpose of each local government is the satisfaction of its citizens and the opportunity of all citizens, and particularly the disadvantaged ones, to have access to services that are adequate in terms of the necessary and expected quality and scale", said Staničić and reiterated that Vračar, as the award-winning municipality, availed itself of the possibility of intermunicipal cooperation, while Niš developed international cooperation with the city of Milan. "The SCTM focuses on urban mobility, and accessibility is part of the mobility topic, and there is no mobility unless all citizens have equal opportunities", concluded Staničić.
Miodrag Počuč, member of the Ombudsman's council for persons with disabilities, stated that persons with disabilities are the key target group when it comes to accessibility, along with people affected by chronical health conditions and the elderly. "Providing for accessibility means ensuring all individuals can make use of any part of the built environment or any information on an equal footing with others", said Popuč, and emphasized that the term itself is frequently used in connection with medical or social care facilities, but that accessibility must be universal, in tourism, culture, education and in all other spheres of life. "Everything in our built environment is either made for the average person or for persons with disabilities, there is nothing in between, and that is not a good thing. This is why we need to achieve balance, so that the same product can be used by as many people as possible", explained Počuč and concluded that to achieve full accessibility there must be political commitment, continuity, use of good practice examples, strategic planning, information sharing, communication and adequate promotion.
Vidan Danković, member of the Ombudsman's council for persons with disabilities stated that accessibility in Serbia is progressing, because barriers are being removed and there is understanding for the implementation of accessibility standards. "Accessibility can be achieved only if we have cooperation between local governments and persons with disabilities articulating their needs, mostly through their associations", stated Danković and explained that accessibility should be perceived as an investment and a cross-sectoral business with a longer lifecycle than an individual project, and that we must take care to preserve everything we have accomplished so far in the field of accessibility.
To watch the award ceremony click on this link.