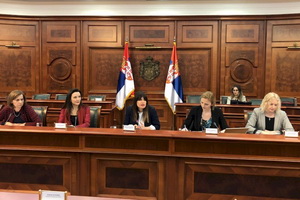 The Coordination Body for Gender Equality, presided over by Deputy Prime Minister Zorana Mihajlović, stated that the founding session of the National Coalition for Ending Child Marriages has been held on 21 February.
The Coordination Body and the UNICEF Office in Serbia have jointly started an initiative to establish the above coalition, aiming to contribute to ending child marriages in Serbia, particularly among the Roma population, through targeted and coordinated activities or relevant stakeholders.
The Director of UNICEF in Serbia Regina de Dominicis noted that early and child marriages represent a serious violation of the rights of girls, who are more vulnerable to this phenomenon.
Assistant Minister of Construction, Transport and Infrastructure Jovanka Atanacković said that marriage before 18 years of age is a serious violation of human rights and affects the right of girls to health, education, and life without violence.
She noted that even through child marriages are rare in the general population, they are a very frequent occurrence in the Roma population, with multiple reasons – from social and cultural patterns, through poverty, to a lack of a coordinated response to this issue.
The coalition represents a community of individuals, institutions and organizations that will jointly work on strengthening the options for safe choice for girls of Roma nationality, ensuring that women and men, boys and girls of Roma nationality are empowered to change the existing practice of child marriages.
Among others, the Coalition consists of representatives of the Coordination Body for Gender Equality, UNICEF, Office for Human and Minority Rights, the Nišavski, Jablanički and Južnobanatski administrative counties, the parliamentary committees for human and minority rights and gender equality, and for child rights.
Other members of this coalition include representatives of the Ombudsman, Commissioner for Gender Equality, City of Belgrade, civil society associations Bibija, Ternipe, Praxis, Indigo, the Social Inclusion and Poverty Reduction Unit, the Office for the Inclusion of Roma, Roma Association Novi Bečej, Republic Institute for Social Protection and UN agencies.
Source: www.srbija.gov.rs