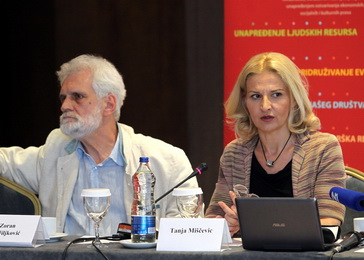 On April 18, Head of the Negotiating Team for the Accession of the Republic of Serbia to the European Union, Tanja Miščević said that, that same week the EU Member States should adopt the Report from the screening for Chapter 19 on Social Policies and Employment, and that Serbia is planning to prepare an action plan by the end of the year, in order to be able to open that Chapter. In the European Union, the jurisdiction over these matters is usually reserved by the Member States, while Brussels supports and amends their efforts. Expected results of the harmonization with the European Union in this area are the improvement of contemporary working relations and social dialogue, and the objectives are the protection of workers and increase of competitiveness. According to the evaluation of one of the members of the Negotiating team, Serbia is below the average concerning the coverage of collective agreements.
Zoran Stoiljković, Member of the Serbian Negotiating Team, explained that the conclusion was that, because of the difficulty of the problem and the lack of capacity, the country is not able to open certain chapters and that it should create an action plan, in a short but reasonable time frame, that would raise those capacities and determine critical points.
According to him, Serbia is a country within the average regarding the functioning of unions, and below the average when it comes to the coverage with collective agreements.
Written by M.P. and taken from www.euractiv.rs