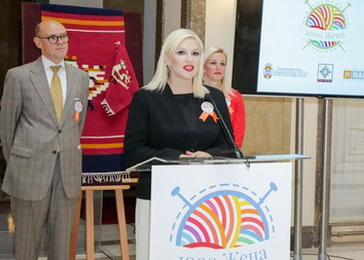 On 13 June, the Deputy Prime Minister of the Government of the Republic of Serbia and President of the Coordination Body for Gender Equality, Zorana Mihajlović presented the "Employment for 1000 Women in Rural Areas" initiative implemented by this body in cooperation with Ethno Network and National Alliance for Local Economic Development (NALED).
Mihajlović reminded everyone about the disadvantaged status of women living in rural areas and added that with this initiative the Coordination Body for Gender Equality aims to contribute to the poverty reduction, economic empowerment, and solidification of the role of women in the local community and rural economy.
Mihajlović said that because she valued the work performed by women in rural areas so much, she always gives traditional Serbian products made by these women as gifts to other officials she meets while performing her duties as the Deputy Prime Minister.
According to her, more that 50% of women in rural areas who are able to work are formally unemployed, three out of four women work without being paid, 60% of them are not eligible for a pension, and only 12% own property.
With this, they represented the neglected potential for social and economic development, highlighted Mihajlović, and invited all socially responsible companies, public enterprises, and institutions to respond to this initiative and help create better living conditions for women living in rural areas.
The website www.1000zena.rs was presented during the ceremony in the Assembly of the City of Belgrade. This website contains information on the most beautiful handicrafts and objects made all over Serbia from natural materials using old techniques, like embroidery and golden embroidery, weaving, felting, crochet, etc.
Source: www.srbija.gov.rs