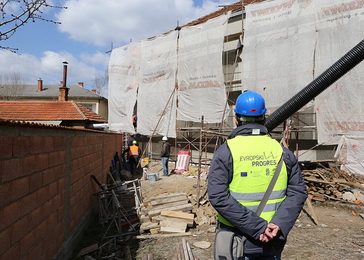 Works on facade and carpentry replacement of the Cultural Centre building in Babusnica have started with an aim to significantly improve energy efficiency of the structure, as well as working conditions in this, and other municipal institutions there – public library, municipal tourist organisation and the Community Centre.
The European Union and the Swiss Government have allocated EUR100,000 through the European PROGRES development programme for this project, whereas the municipality of Babusnica provided additional EUR11,630. The project will contribute to environment protection, decrease of electricity spending, while the renovated space will open up possibilities to improve cultural life of the local population.
During and after the implementation of the project, principles of good management will be of primary concern, so the municipality of Babusnica will build up a programme of energy efficiency and form a committee to monitor and evaluate the programme.
The construction works should be carried out in a month by the construction company KIMTIM from Pirot, selected through a tender published by the Babusnica municipality.
The European Union and the Government of Switzerland will support the activities of the European PROGRESS programme, which contributes to the sustainable development of the South and South West Serbia, with a total of EUR24.46 million. Approved projects will be aimed at strengthening local administration, creating a favourable environment for the development of infrastructure and economy as well as improving the implementation of social inclusion and employment policy. The programme is implemented by the United Nations Office for Project Services (UNOPS).
The municipalities included in the programme are as follows: Novi Pazar, Ivanjica, Nova Varos, Priboj, Prijepolje, Raska, Sjenica and Tutin in South West Serbia, as well as Prokuplje, Blace, Zitoradja, Kursumlija, Leskovac, Bojnik, Vlasotince, Lebane, Medvedja, Crna Trava, Vranje, Bosilegrad, Bujanovac, Vladicin Han, Presevo, Surdulica, Trgoviste, Brus, Aleksinac, Gadzin Han, Doljevac, Merosina, Svrljig, Babusnica, Bela Palanka and Knjazevac in South East Serbia.
Source: europa.rs