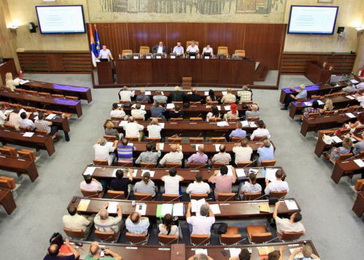 On Thursday, 6 August 2015, at the great hall of the Assembly of AP Vojvodina, the deputy president of the provincial government, the provincial secretary for education, regulations, administration and national minorities – national communities, Mihalj Njilaš, signed contracts with representatives of bodies and organizations in the Autonomous Province of Vojvodina officially utilizing the languages and scripts of national minorities – national communities in their work, receiving budget funds in the call published for 2015. The required funds were intended to train employees, develop an electronic administration system, produce and set multilingual boards and print multilingual forms and publications.
"During the ten years the Secretariat has been financially supporting projects in this field considerable financial funds were secured and set aside from the AP Vojvodina budget – several tens of millions of dinars – for the training employees in the use of national minority languages, developing the system of electronic administration, producing and setting multilingual boards with the names of settlements, streets, squares, bodies, organizations, public notices, as well as the printing of multilingual forms and publications, and accordingly, noticeable improvements were made. This year, 9,500,00.00 dinars were set aside. Of course, we will continue along this course in the future, and strive for the budget of AP Vojvodina to secure greater funds that could meet the growing needs of call participants. Therefore we encourage you to continue these activities, as you did before", said Njilaš.
During his further address to those present, the secretary noted that Article 77 of the Constitution of the Republic of Serbia and Article 21 of the Law on the Protection of Rights and Freedom of National Minorities provide the framework for the long-term solution to the problem of official use of national minority language and script, since they prescribe the right of members of national minorities to participate in managing public affairs and taking public posts under the same conditions as other citizens, as well as that in employment in public bodies, public services, including the police, attention is given to the national composition of the population, the adequate representation and knowledge of the language spoken within the territory of the body or service.
Source: www.puma.vojvodina.gov.rs