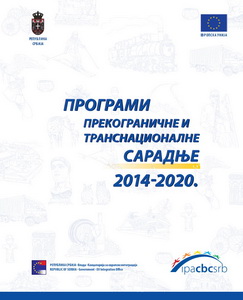 Download the brochure "Cross-Border and Transnational Cooperation Programmes 2014-2020" issued by the European Integration Office of the Government of the Republic of Serbia.
Cross-border and transnational cooperation programmes are called territorial cooperation programmes or Interreg programmes. The programmes represent financial support to the cooperation of border territories of neighbouring states (cross-border cooperation) or the cooperation of parts or entire states (transnational cooperation) in solving issues of common interest – waste management, providing services in various sectors, cultural and economic cooperation, tourism, transport, etc.
This European Union initiative exists since 1990, when the funds of European structural and investment funds (ESI funds) – more precisely, the European Fund for Regional Development (EFRR)- through the Interreg programmes, were at the disposal only of member states. Since 2004, non-member states are becoming included in the Interreg programme, using funds at their disposal: during the 2004-2006 period – the CARDS programme; during the 2007 to 2013 period – the IPA programme (Instrument for Pre-Accession Assistance); and during the 2014-2020 period – the IPA 2 programme.