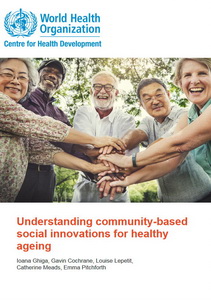 The World Health Organization has published the findings of the Report on Community Based Social Innovation (CBSI) for Healthy Aging covering case studies across 10 countries with higher-to-medium income: Chile, China, Iran, Lebanon, Russia, Serbia, Sri Lanka, Thailand, Ukraine and Vietnam.
The goal of the study initiated in 2014 was to identify how local community-based innovation can contribute to links between the healthcare and social welfare system, thus improving both the health and the welfare of the elderly population.
Responding to a broader public call for good practice examples of the World Health Organization (WHO) – Centre for Health Development and RAND Europe, an independent non-profit think-tank from Cambridge, the association "Amity – Power of Friendship" applied with an example of self-organized help groups for elderly persons, implemented as projects in Serbia.
These 10 case studies define CBSI as community-based initiatives that empower the elderly to improve care for themselves, retain their welfare and promote social cohesion. The study shows that the main healthcare benefits are of a psychosocial nature – e.g. the integration of socially excluded elderly persons into their communities. CBSI also empowers people in decision-making regarding their choices regarding healthcare or social welfare. Finally, these initiatives empower informal caretakers, many of them women. However, many initiatives rely on volunteers, have no sustainable funding, and community links to formal healthcare and social welfare systems are often limited.
Experts estimate that these kinds of community-based social innovations are yet to gain importance in the future as an effective and economically feasible method of reducing the gap between the social welfare and healthcare system, responding efficiently to a broad spectrum of diverse needs in the communities.
The case study for Serbia is available here in Serbian, along with the full report in English and all 10 case studies (also in English).
More information on the project can be found here.
Source: www.amity-yu.org