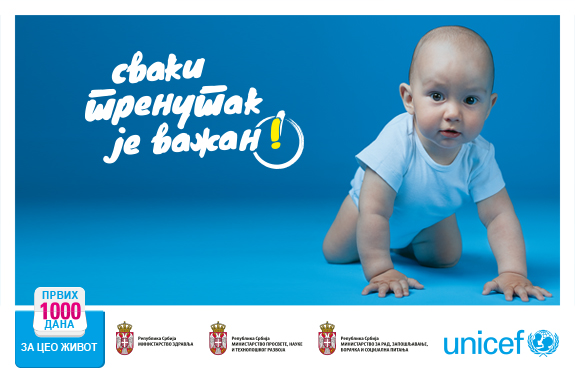 The Minister of Labour, Employment, Veteran and Social Affairs of the Government of the Republic of Serbia Zoran Đorđević, speaking on 18 September, noted the significance of the national campaign "Every Moment is Important", initiated by UNICEF to raise awareness of the importance of the first 1,000 days of the life of a child for its development.
Đorđević noted that the campaign was initiated in cooperation with ministries of health, education, science and technological development and labour, employment, veteran and social affairs.
State Secretary at the Ministry of Health Meho Mahmutović noted the successful cooperation with UNICEF, particularly through the project of improving primary healthcare of children in the earliest age. Mahmutović emphasized that as part of this project developmental counselling offices have been opened in nine health centres during the past two years.
State Secretary at the Ministry of Education, Science and Technological Development Anamarija Viček said that investing in a child through early learning and better preparation for school increases the probability of boys and girls completing primary school. The line ministry recognizes the importance of education during an early age and is working in parallel on two lines of action – increasing the coverage of children and improving the quality of preschool education, noted Viček.
The Director of the UNICEF office in Serbia Michel Saint Lot said that this organization, in cooperation with the Government of the Republic of Serbia, is working on ensuring all children in Serbia have the best start to their lives.
Source: www.srbija.gov.rs