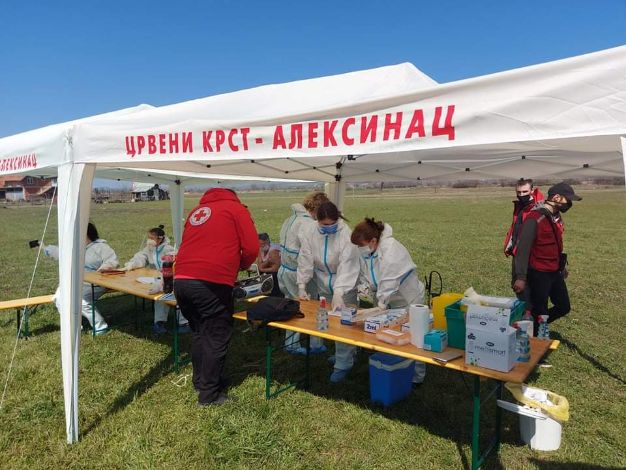 In order to inform the Roma population about the importance of COVID-19 immunisation and facilitate their vaccine registration, the Association of Youth Volunteers of Serbia, founded by young Roma UN volunteers, started an outreach campaign that aims to visit the inhabitants of the informal Roma settlements in 18 towns and municipalities in Serbia.
During the first four days of the campaign, which started on 25 March, hard-working and dedicated volunteers presented all the important information about the vaccination to 748 Roma men and women.
While implementing their field activities, the Association of Youth Volunteers of Serbia noticed that the Roma had a low level of awareness about the importance of vaccination and obtaining herd immunity.
In the next three months, a total of 20 volunteers from Serbian towns and municipalities will visit the inhabitants of informal Roma settlements in their local areas and inform them about how they can register for vaccination, where they can receive the vaccine, why it is important to do so, and what the procedure looks like. The volunteers will have tablet devices with Wi-Fi, which will allow them to help as many interested people as possible to register for vaccination on the eUprava portal. If there is a possibility of setting up a vaccination booth in a Roma settlement, the volunteers will inform all inhabitants who want to be vaccinated about this, in coordination with the representatives of local self-governments.
The volunteers will also remind the inhabitants of informal Roma settlements about the necessary prevention measures to stop the COVID-19 spread and distribute protective masks and brochures in the Romani language with summarised answers to the most important questions about the vaccination.
The campaign will last until 25 June, and the volunteers will visit the informal settlements in Aleksinac, Bela Palanka, Valjevo, Vranje, Zaječar, Kostolac, Kruševac, Lajkovac, Lebane, Niš, Niška banja, Novi Sad, Obrenovac, Osečina, Prokuplje, Čoka, and the Belgrade municipalities of Voždovac and Zvezdara.
Surveys conducted by the civil sector and international organisations have shown that 25,000 Roma living in Serbia do not have access to drinking water and cannot ensure basic conditions for hygiene, which is a health hazard that only became more serious during the COVID-19 pandemic.
The activities were supported by the Government of the United Kingdom as part of the project "Support to the Republic of Serbia for Implementing an Effective and Efficient COVID-19 Immunization Plan". The Office for Information Technologies and eGovernment also supported the activities by providing the necessary infrastructure and equipment for vaccine registration during visits.
The campaign is also supported by the United Nations Development Program (UNDP), the United Nations High Commissioner for Refugees (UNHCR), the United Nations Human Rights Team, and the Social Inclusion and Poverty Reduction Unit of the Government of the Republic of Serbia, in collaboration with the Ministry of Public Administration and Local Self-government.
Source: www.rs.undp.org