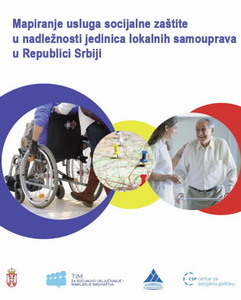 The Social Inclusion and Poverty Reduction Unit of the Government of the Republic of Serbia initiated the implementation of the survey "Mapping of Social Protection Services under the Competence of Local Self-Government Units in the Republic of Serbia", implemented with the support of the Republic Institute for Social Protection and the Standing Conference of Towns and Municipalities.
The survey was implemented by the Centre for Social Policy during the period October 2015-March 2016.
The mapping of social protection services was implemented across 145 local self-government units. All local self-government units, i.e. local service providers, provided data on social protection services for 2015.
Based on the methodology used during the survey implemented in 2012, data was collected on social protection services provided in each local self-government unit, their distribution, availability, efficiency and quality.
Click to download: