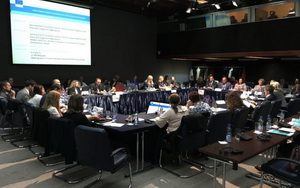 On the occasion of 30 years of the Erasmus programme and the meeting of the Western Balkans Platform for Education and Training, European Commissioner Tibor Navracsics, responsible for Education, Culture, Youth and Sport visited Belgrade today.
Together with Serbian Minister of Education, Science and Technological Development Mladen Sarcevic and Head of EU Delegation to Serbia Sem Fabrizi, Commissioner Navracsics officially opened the meeting which will discuss measures to further increase regional cooperation in education, science, research and innovation.
Host of the meeting, Minister Sarcevic, said in his opening remarks that the Western Balkans Platform for Education and Training was of immense importance for regional cooperation, experience and knowledge exchange as well as Serbia's future EU accession.
"The future of the European Union and our countries rests on strong economy, based on knowledge and innovation. Hence, we should focus our cooperation on strengthening our economy through investments in innovation and tapping into our research potential," the Minister said during the opening of the regional ministerial meeting on education, training, science and research.
European Commissioner for Education, Culture, Youth and Sports Tibor Navracsics reminded that "since its launch in 2012, the Western Balkans ministerial Platform has become a valuable tradition, providing a unique opportunity to exchange views on the situation of education systems in the region, their main priorities and challenges. As we celebrate the 30th anniversary of the Erasmus programme, I would highlight that Erasmus+ now has 33 programme countries and enables cooperation with hundreds of other countries in the world, including all those from the Western Balkans."
European Commissioner stressed that 12,000 students and staff from the Western Balkans have received scholarships to study or teach abroad since 2014.
Head of the EU Delegation to Serbia Sem Fabrizi said that the European Union helped the countries in the region to implement reform with a view to creating better education environment, one that can tackle the challenges of social and economic growth and boost social development, social inclusion and EU accession perspective.
"Since 2003, in Serbia alone, the EU has granted EUR80 million for education reform and over EUR100 million to boost innovation, competitiveness, research and development. Also, we support Serbian students and teachers thanks to our Erasmus+ programme by offering them scholarships and exchange opportunities in universities in Europe and beyond," he said and reminded that the day before saw the signature of agreement in Brussels on the basis of which the EU allocated EUR27.4 million in grants to support education reform in Serbia.
"By doing so, the EU has made an extra step to support education reform in the country," Fabrizi said.
Also, Commissioner Navracsics took part in a panel debate with Erasmus+ alumni who have benefitted from the programme. They shared their experience, and talked about the importance of knowledge they gained and contacts they made during their stay in universities across Europe.
Source: europa.rs