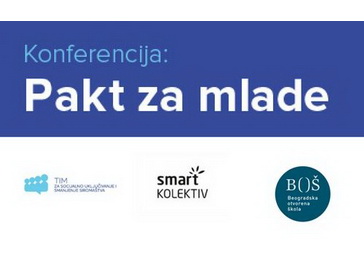 On September 19, 2016, in Dom Omladine in Belgrade, the Social Inclusion and Poverty Reduction Unit, together with its partners, SMART Kolektiv and Belgrade Open School, organised a conference called "PACT FOR YOUTH"  in order to promote and introduce the European Pact for Youth to all stakeholders and the public. The European Business Network for Corporate Social Responsibility (CSR Europe) initiated the European Pact for Youth in order to combat high youth unemployment in Europe. The idea of the Pact is to bring together young people and representatives from the business sector, educational institutions, social partners, and the entire business community, so together they can develop and strengthen partnerships that would support the employment and social inclusion of the youth. These partnerships are created to improve the quality of knowledge and skills acquired by young people, including digital and entrepreneurial skills, as well as ecological and soft skills. So far, more than 50 companies and organisations confirmed their participation in the Pact, which created a unique cooperative model. The plan is to create a total of 10,000 partnerships between the business sector and educational institutions, with the common objective of achieving at least 100,000 new high-quality internships, training courses and jobs for beginners.
The conference was opened by Nenad Ivanišević, State Secretary from the Ministry of Labour, Employment, Veteran and Social Affairs, and on behalf of the organisers Ivan Sekulović, the Manager of the Social Inclusion and Poverty Reduction Unit. Nenad Ivanišević stated that the increase in youth employment was high up the list of priorities of the Government of the Republic of Serbia, while Ivan Sekulović emphasised that the conference represented the continuation of activities of the Social Inclusion and Poverty Reduction Unit designed to improve the position of young people in the labour market and support their social inclusion. He added that the Conference was part of the National Dialogue for the promotion of youth employment in Serbia.
At the conference, the representatives of the public, civil and business sector shared information on the status of young people on the labour market in Serbia, and on the activities organised in order to increase youth employability and employment. Special attention was given to programmes which enable young people to have contact with businesses, during and after the process of education. Vocational training programmes for the youth implemented in neighbouring countries, Montenegro and Croatia, were also presented.
Photographs by: Nemanja Knežević
More photos from the conference can be found here.