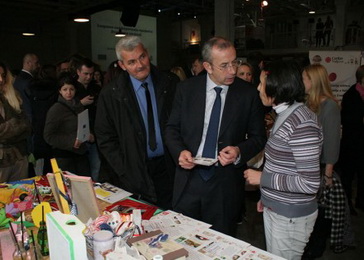 Over 150 persons with mental difficulties exited social protection institutions after years of stay in institutions, more than 200 were prepared for exiting institutions, and over 900 persons in the community used services initiated outside institutions. All this was made possible through the activities of the Open Hug project financed by the European Union with EUR 5 million.
The projects, receiving over EUR 2.3 million in EU grants, developed new community services for persons with mental and intellectual difficulties, built and equipped facilities for independent living, initiated programmes of care for beneficiaries in foster families, in order to prevent further risk of institutionalization mental health centres were opened, daycares, and services of help in the home at the service of such persons. Persons with mental difficulties have been prepared for exiting the institutions for months. Experts from various fields worked with them in all institutions.
A film is accessible at the Open Hug project website www.otvorenizagrljaj.rs as well as on the YouTube channel of the European Union Information Centre (EUIC).
The Social Inclusion and Poverty Reduction Unit of the Government of the Republic of Serbia initiated and financially supported the drafting of the project.
Since 2000 the EU donated EUR 144 million for projects of assistance to the social protection sector in Serbia.
Source: europa.rs