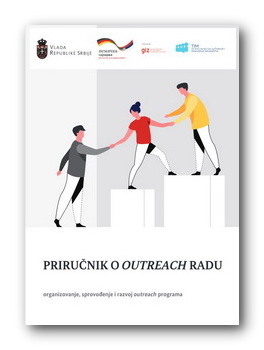 The Social Inclusion and Poverty Reduction Unit (SIPRU) of the Government of the Republic of Serbia, in cooperation with the Government of the Federal Republic of Germany, within the German-Serbian development cooperation project "Social Protection Services for Vulnerable Groups", implemented by GIZ, has published the Manual on Outreach Work – Organisation, Implementation and Development of Outreach Programmes.
The publication was created due to the need for a manual that would provide insight into the organisation, implementation and development of outreach programmes, which arose from the local context research on the availability of social protection services in 15 pilot municipalities and cities in Serbia, which SIPRU and GIZ conducted in 2019 and 2020. Among other things, the analysis indicated the characteristics of outreach work realised by local associations. The Manual is, therefore, a resource that is primarily intended for citizens' associations.
Outreach is a set of continuous activities through which reaching people who are socially excluded or at risk of social exclusion and providing support in places (physical and virtual) where they live, work or spend time while respecting the principles of voluntariness, participation, solidarity, reflection, flexibility, seeks to:
support a person in the process of achieving a dignified life, rights, development, inclusion in society;
influence the community and society in building solidarity;
influence social structures or systems (political, economic, etc.) in the direction of transformation to achieve conditions for social justice and human development.
The Manual is of a general nature and does not focus on any socially excluded group specifically. It contains steps for organising, implementing and developing outreach programmes and provides an incentive for those already implementing outreach to develop the practice in a participatory manner.
In the first three chapters, the Manual clarifies the terms "outreach" and "socially excluded groups" and seeks to "place" outreach in the context of social protection in Serbia. The fourth chapter provides the basis for a transparent, critical and participatory organisational context as a prerequisite for responsible outreach work. Chapters 5 to 12 suggest steps for developing and implementing outreach programmes. Special attention is paid to the ways of reaching people, and a classification is also proposed: reaching people "face to face" and reaching people through technology. The last chapter provides proposals for documents and forms that can serve as models for preparing documentation within individual outreach programmes.
Click here to download the Manual on Outreach Work – Organisation, Implementation and Development of Outreach Programmes (.pdf).