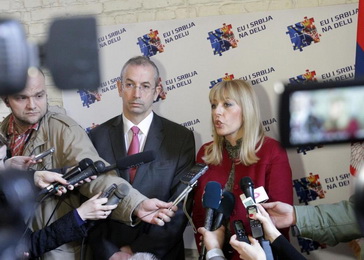 Since 2000 Serbia received 3 billion euros from the EU as assistance for reforms and social development, ranging from energy, to assistance to vulnerable persons and refugees. The 60 most successful projects were presented at the EU Projects Fair, the first event of its kind in Serbia. It was also an opportunity to announce that within the new assistance package IPA 2014, starting this year, Serbia will receive 189 million euros, and that as of 2016, a chance to gain EU financial assistance will also be provided to Serbian farmers. The head of the EU Delegation, Michael Davenport, said on this occasion that on 25 March the first phase of the accession negotiations of Serbia will be completed – the screening, i.e. the review of the harmonization of Serbia with EU laws and standards.
Davenport said this is the first budget year in the new multiannual financial EU framework for the 2014-2020 period, where Serbia, with 1.5 billion euros for a seven-year period, is the largest beneficiary in the Western Balkans.
"IPA 2 assistance will focus on a smaller number of larger sectors in order to intensify and accelerate accession", said Davenport. He added that he expects citizens will start to feel the effects of the assistance during the coming years, such as a more reliable public administration, faster courts, safer food, etc.
He noted that with this year's funds, the total amount of EU grants to Serbia will reach three billion euros since 2000.
The Minister for European Integration, Jadranka Joksimović, emphasized one of the novelties in the new package of pre-accession assistance IPA 2, namely the option for a considerable amount of IPA funds to be directed through budget support to sectoral reforms, primarily for the reform of public finance management and public administration.
The project fair entitled EU and Serbia at Work was an occasion to present the results achieved with EU funds. A total of 60 projects were presented from 11 sectors, including healthcare, competitiveness and innovation, energy and environment, support to refugees, internally displaced persons and the Roma, as well as other vulnerable groups for social integration, media, culture and society, judiciary and agriculture. The fair was organized by the EU Delegation to Serbia, EU Info Center and the European Integration Office.
Source: www.euractiv.rs