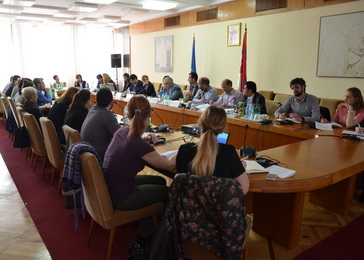 The Social Inclusion and Poverty Reduction Unit of the Government of the Republic of Serbia organized the one-day workshop "Measuring Poverty – Concepts, Challenges and Recommendations", in partnership with the World Bank and the Statistical Office of the Republic of Serbia. The event took place on April 17, 2015 and gathered experts, representatives of multilateral institutions, government, the academia and the donor community.
The aim of the workshop was to present recent trends and challenges in measuring poverty worldwide, as well as in the Republic of Serbia, and to provide opportunity for a broader discussion about poverty measurement and data collection among practitioners.
The goal of the workshop was to evaluate how the existing data from the Household Budget Survey and the Statistics on Income and Living Conditions survey can be used more efficiently from a policy-maker's point of view for a more accurate assessment of the impact of current policies on poverty and social inclusion, as well as the effective design of future poverty reduction and social inclusion policies.
You can download presentations of experts here:
Also, we recommend the following related publication of the Social Inclusion and Poverty Reduction Unit: